Project preparation and placement
Our Project Preparation department is on hand to offer additional support for big projects. They then visit the building site in advance and coordinate all details with the site construction manager. This includes where the project will start, what delivery sequence we should follow and what preparations are needed beforehand. They use this information to devise a delivery plan to guarantee sound and safe retaining wall delivery.
Preparation
We discuss the delivery preparation (view the one-minute video) with our customer to ensure smooth and satisfactory wall placement on site. Our team gives clear instructions for this. For example, the unloading point must be accessible and easy for transport to drive on. Sound preparation of the substrate is important for correct wall placement and project progress.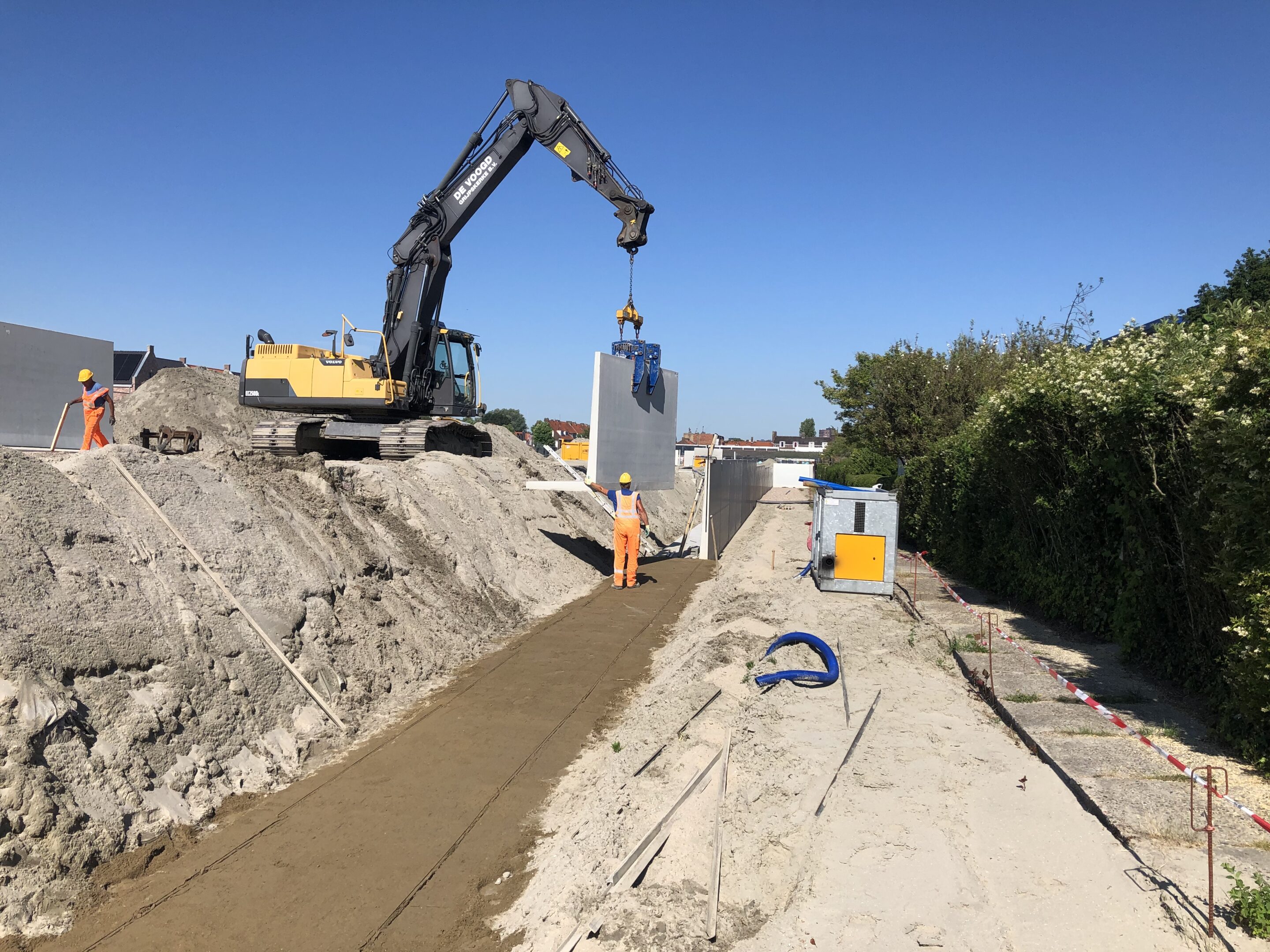 Planning & Logistics
The Planning & Logistics department takes care of all outgoing transport so that our retaining walls reach our customers in the most efficient way possible. The team also makes delivery arrangements, instructs and supervises drivers and monitors stocks and delivery times. We work with regular and experienced drivers to place our retaining walls.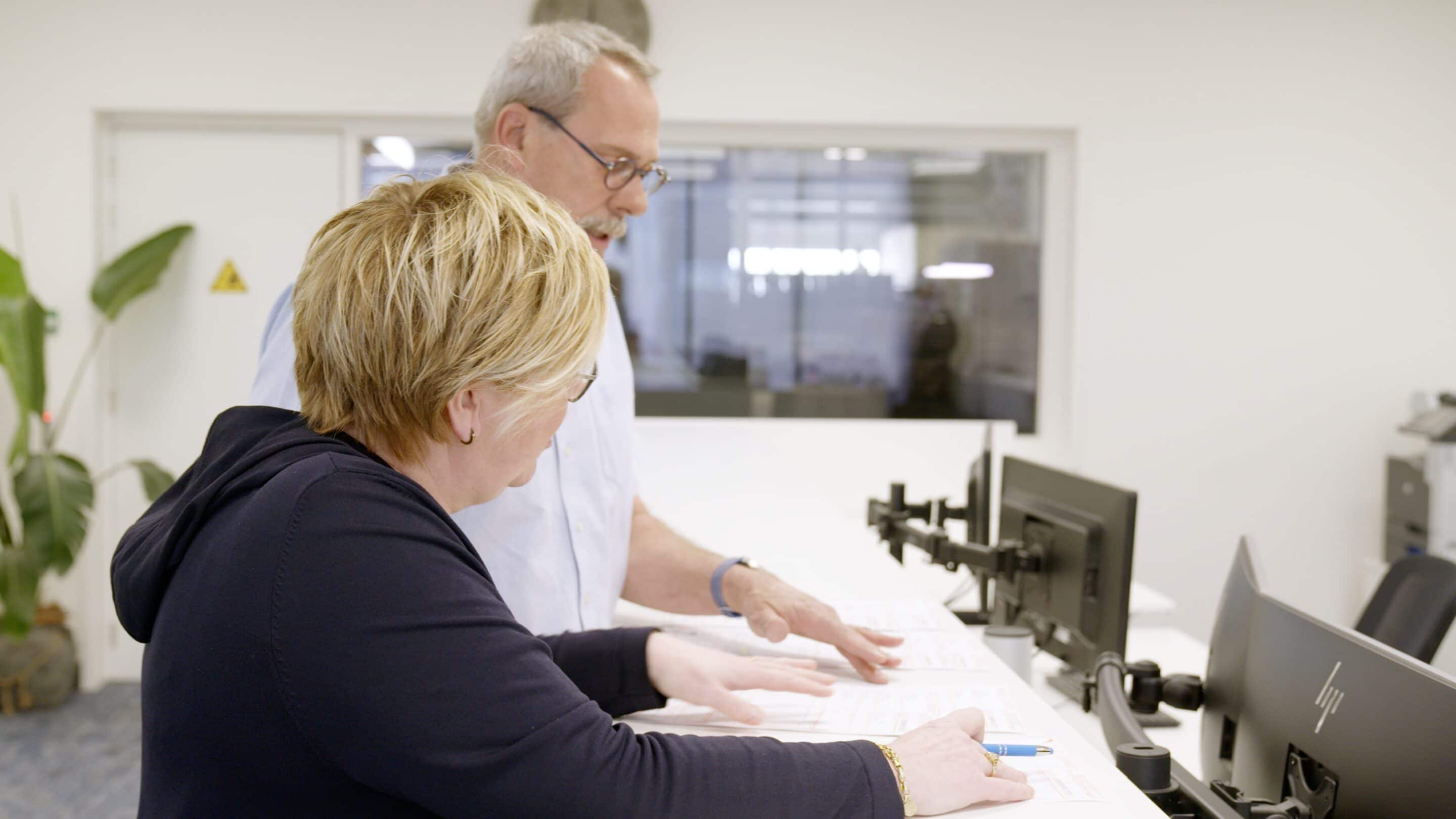 Placement options
Directly from the truck
Yourself using a suitable clamp
Via telescopic crane and a hydraulic vacuum clamp
Our retaining walls do not include hoisting elements as standard. On request, we can include these when pouring the retaining walls. We work with regular carriers who provide the delivery trailers. We also work with regular and experienced placement drivers who place the walls from their own mobile crane. The placement driver is your point of contact during delivery and oversees the entire delivery and acceptance up to the last delivery trailer. He holds a valid VCA (SCC) and hoisting certificate. One hour's placement time is included as standard.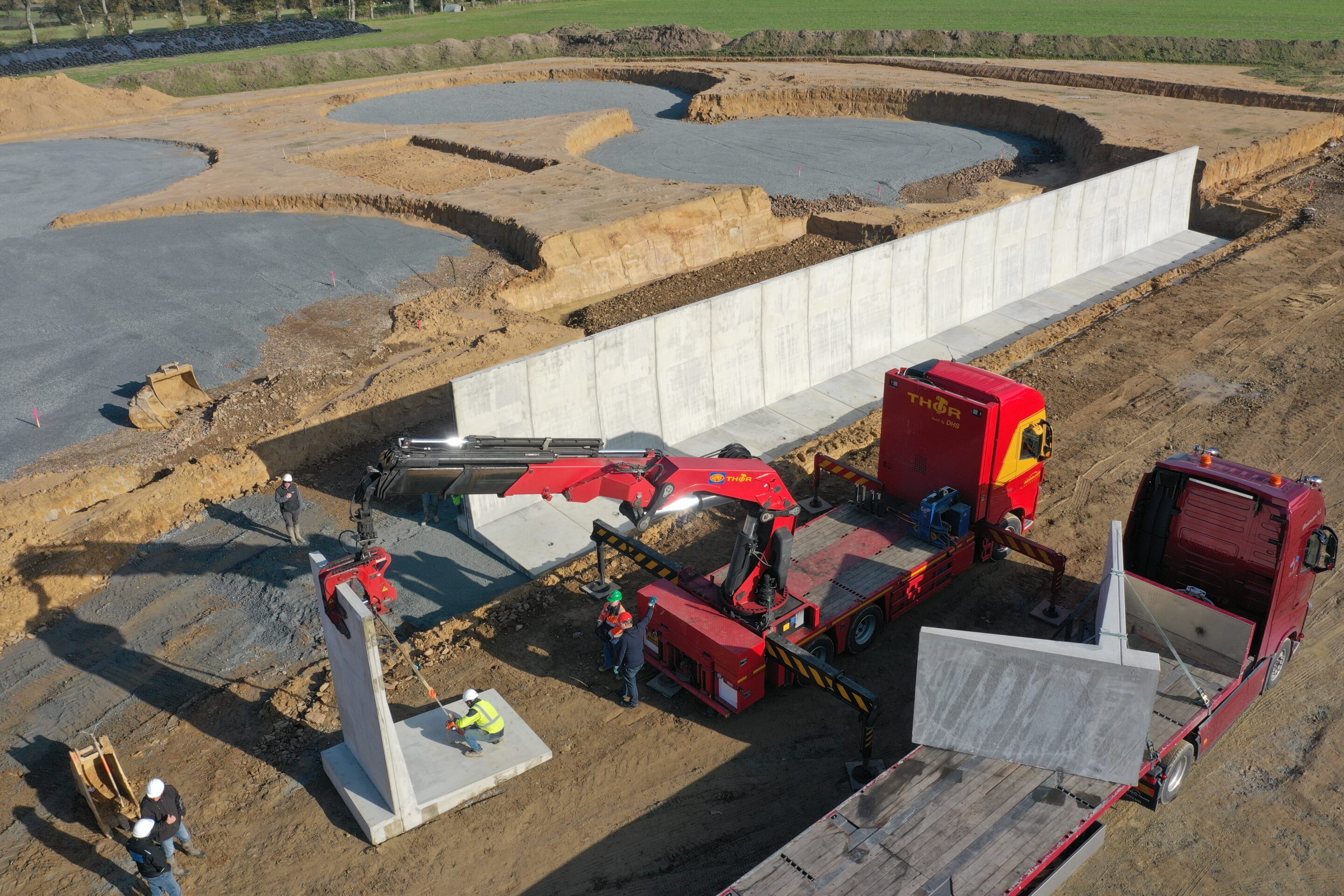 Placement directly from the truck
Placement directly from the truck is the most advantageous as it avoids additional unloading and storage operations and guarantees faster placement. Sound preparation of the substrate is important for correct wall placement, as is the presence of an additional qualified staff member to assist our driver on site. It is important that the unloading site is readily accessible along paved roads and is easily passable for a six-axle truck with a maximum total weight of 50 tonnes and a maximum axle load of 12 tonnes per axle. There must also be sufficient space to extend the mobile crane's outriggers. This placement method is not suitable for deep placement of retaining walls.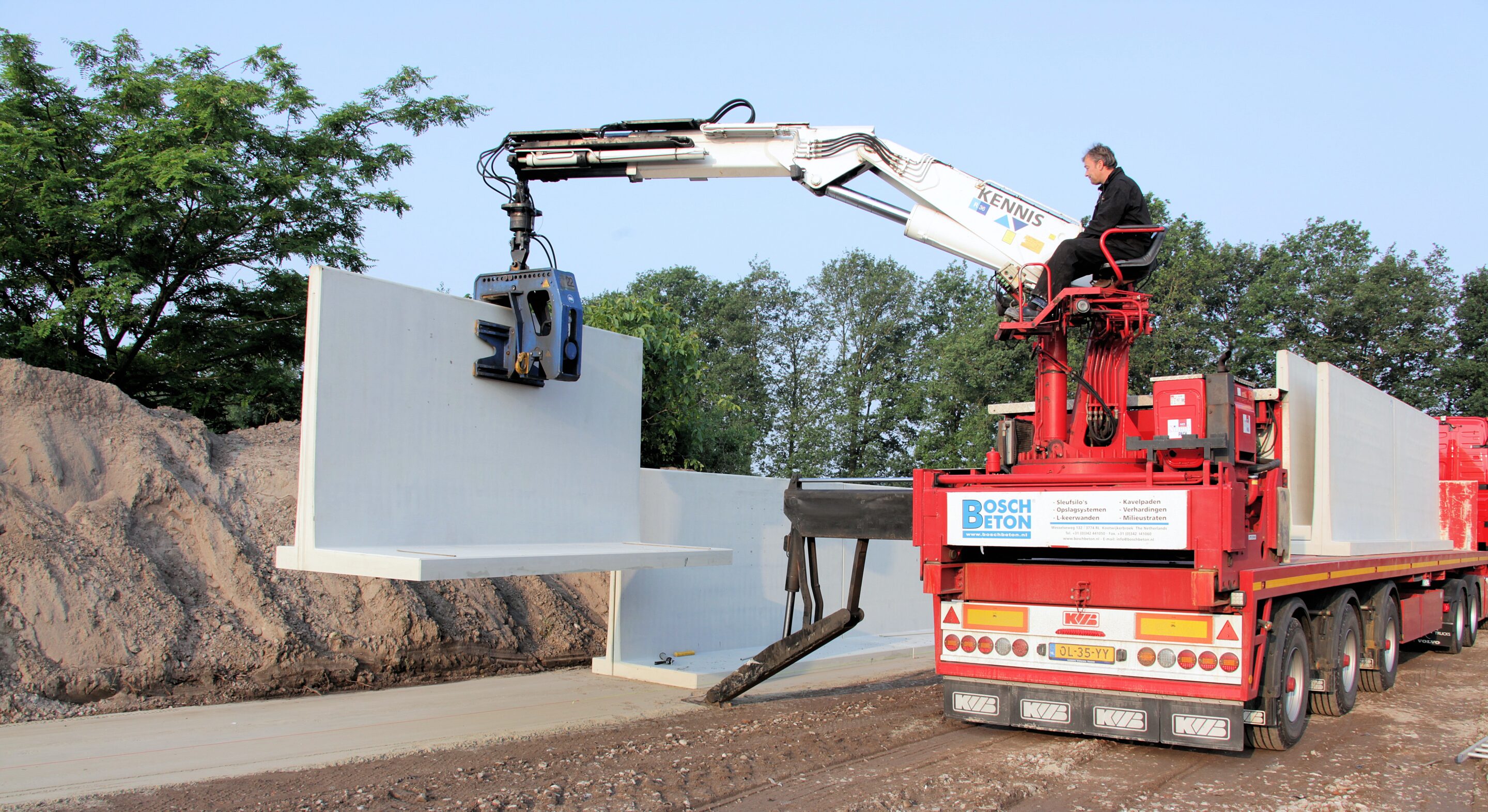 Placement using a clamp
You can place the retaining walls yourself using a clamp. For example, if the site is inaccessible for our truck, or the client wishes to carry out the placement themselves for other reasons. Our retaining walls do not include hoisting elements as standard. You can hire a suitable mechanical or hydraulic clamp, depending on the type and weight of the retaining wall that you wish to place. This clamp is easy to attach to a crane, shovel or dredger. It is important that the maximum liftable weight of the clamp and crane matches the weight of the retaining wall. The retaining wall weight is stated on the retaining wall sticker. Responsibility for suitable placement equipment and safety during execution lies with the client. Any damage incurred during placement is at your own expense.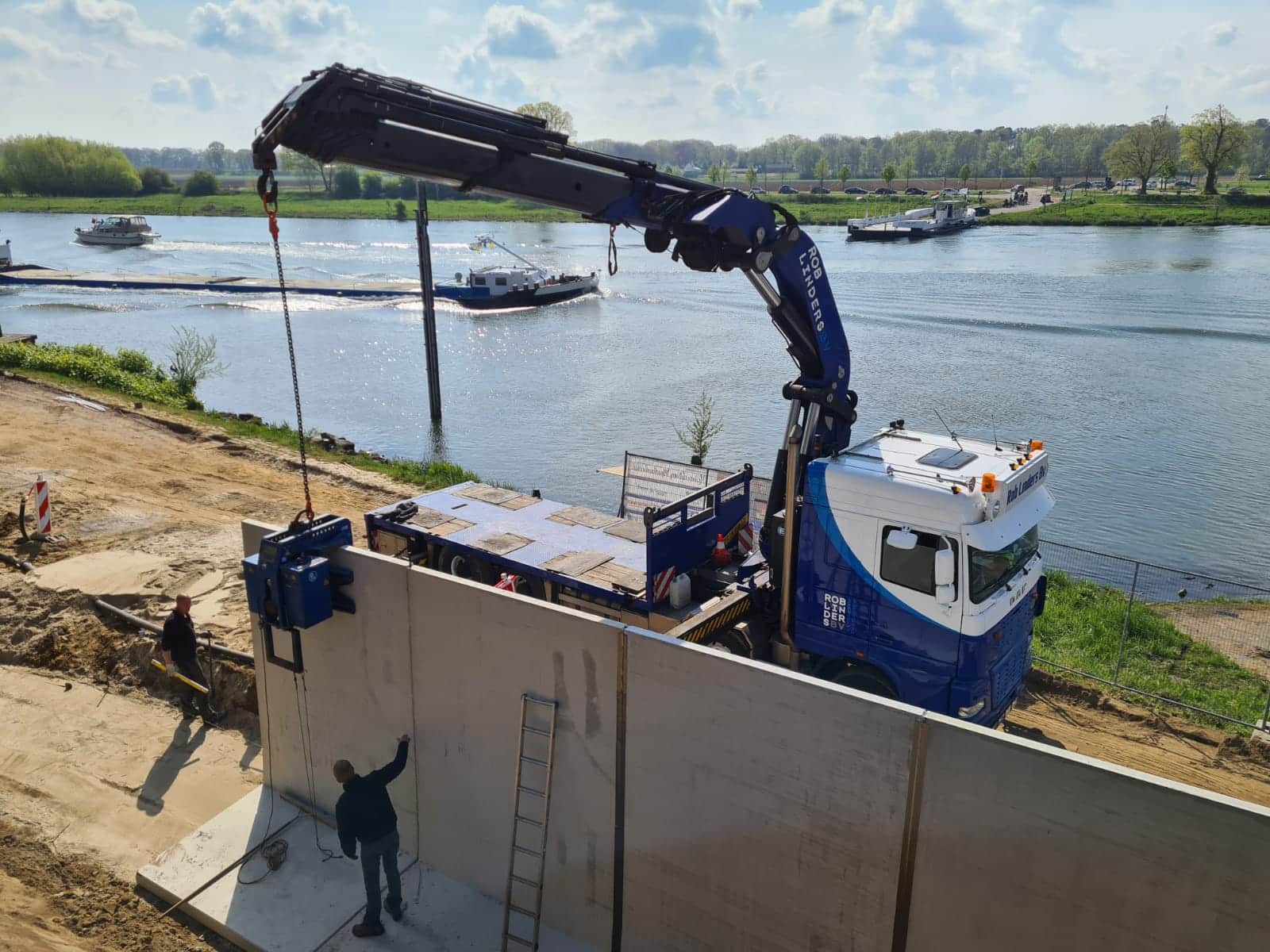 Placement via telescopic crane and hydraulic vacuum clamp
We transport walls higher than 3 metres sideways because of their size. On site, we use our specially designed hydraulic vacuum clamp and/or a mobile crane to tilt the retaining walls. The hydraulic vacuum clamp enables tilting to take place during the placement operation, which again saves construction time. For safety reasons, professional hoisting assistance is always available on site to operate the clamp during such placement. Assistance is only provided if we can place our walls on a sub-structure that has already been properly prepared by the client. The assistants work under the direction of the general foreman and the building rules that apply on site.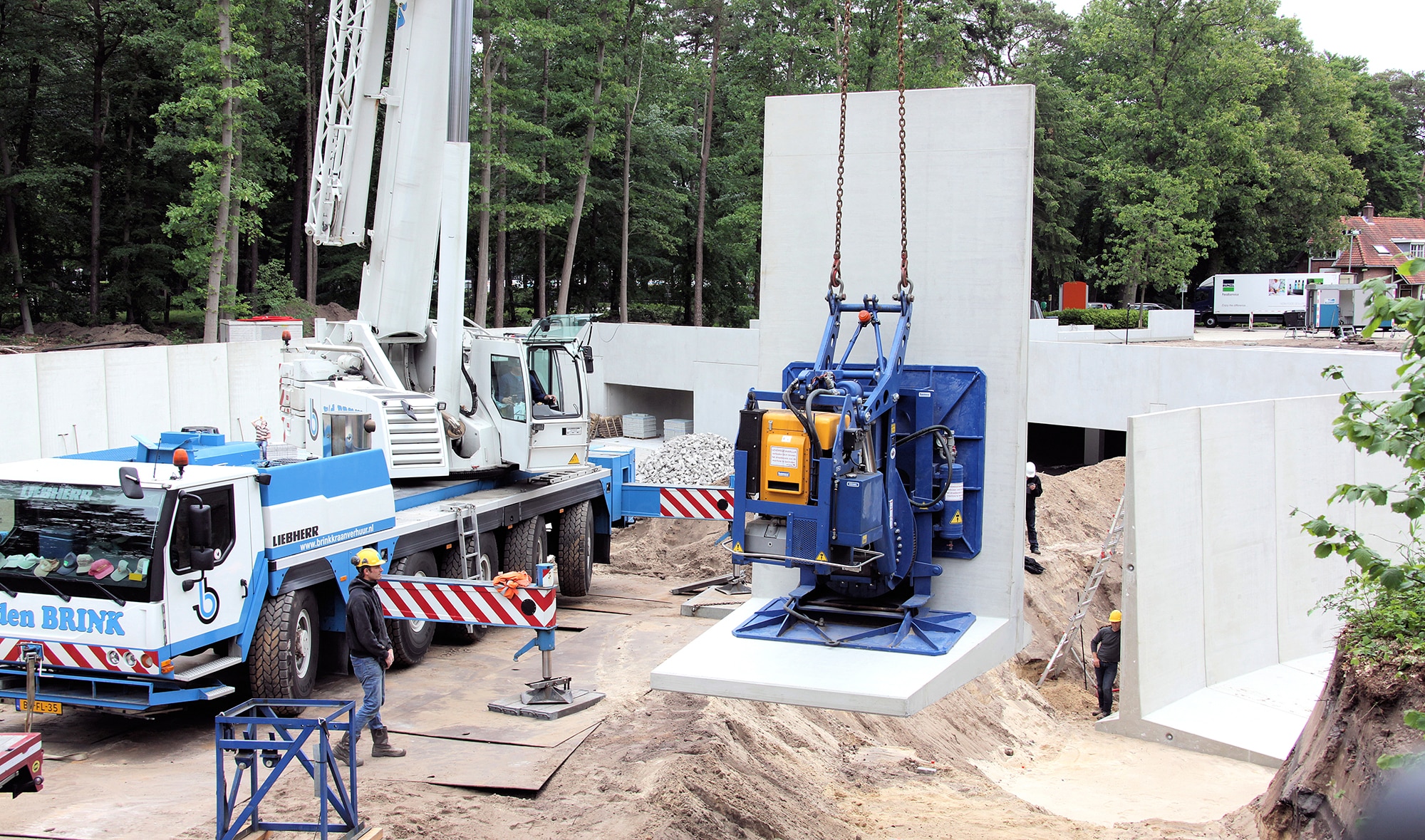 goed bedrijf
afspraken worden goed na gekomen , kunnen meestal snel schakelen, doen daar zo ie zo hun best voor
Een uitstekend product en zeer goede service
Goede kwaliteit en overleg omtrent de werkzaamheden is prima
slecht klant meenemen in offerte,
Op de tekeningen had klant, wij, kunnen zien dat de platen en de wanden van dikte verschilde, dit inverband met klaarmaken ondergrond. Daar had Bosch beton wel even op kunnen wijzen, bij de vorige silo van Bosch beton was dit niet zo, we gingen er vanuit dat dit hier ook zo was. Nu was het voor beide een vrassing,chauffeur, planner en wij als klant. Moet er speciaal een wagen voorterugkomen, wordt niemand wijzer van, had veel beter gekund.
alles prima
Alles prima verlopen
Kwaliteit en levering is goed
Zo kan ik weer jaren vooruit
Snel geregeld
Binnen 1 dag een offerte binnen na een silo gebouwd te hebben op de website ,top
duidelijke afspraken met oog voor maatwerk
duidelijk tot de laatste levering alleen bij mondeling huren onduidelijk over kosten berekening
Vriendelijke communicatie
Vriendelijke communicatie en denken mee.