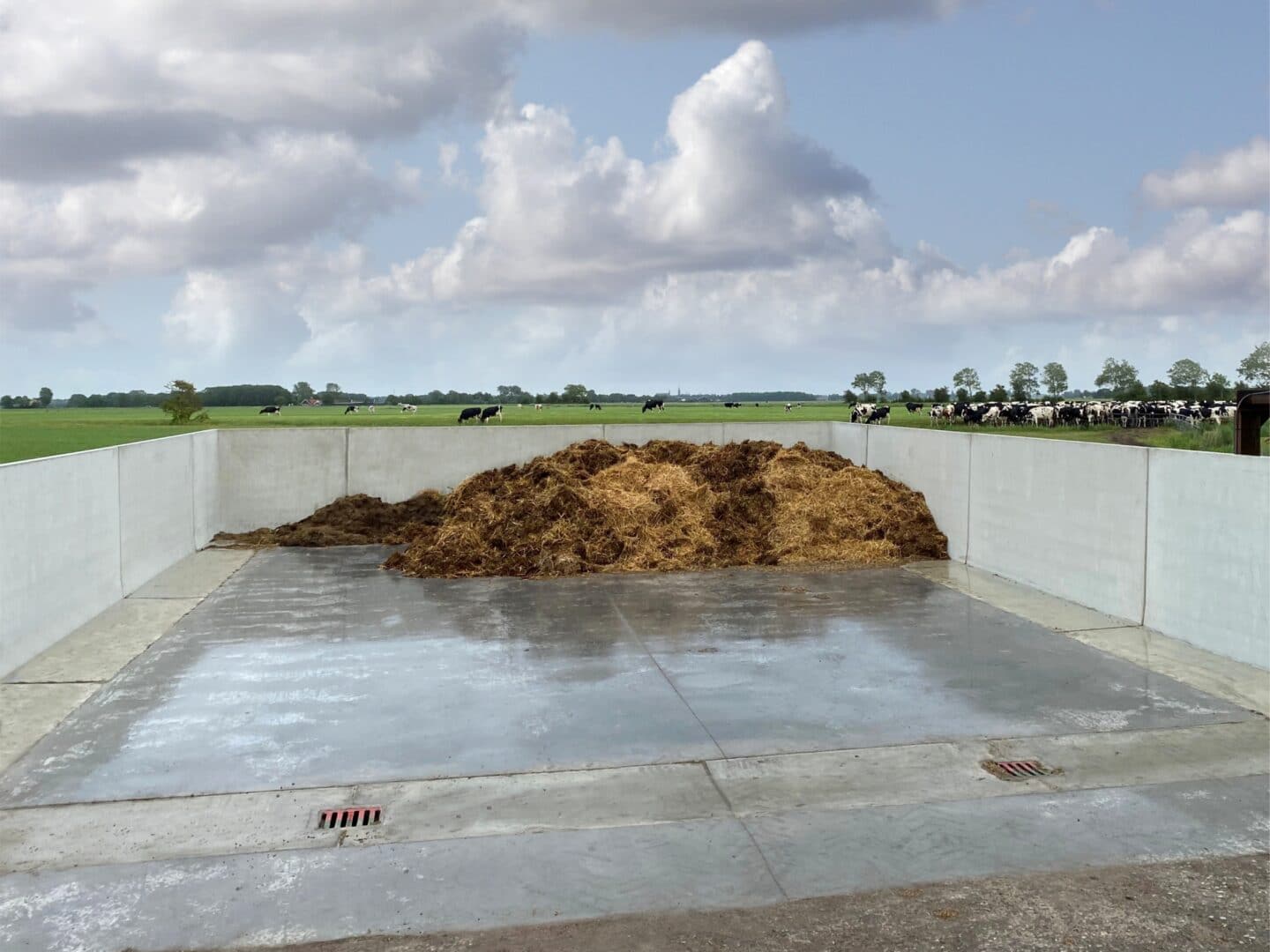 Manure storage
Concrete manure storage is the most sustainable solution, whether you need a silo for storage or a horse paddock with fencing on top. With our retaining walls you decide on the storage capacity yourself for a small or large storage space. By means of various accessories and options, you will ensure that the manure storage does not come into contact with the soil or the surface water. Your manure storage can be made to measure within a short time.

Betrouwbaar en plezierig
Vertegenwoordiger Douwe Bijlsma weet op een plezierige manier en met veel energie zijn product te adviseren en verkopen. Vanwege zijn ervaring weet hij precies wat ik nodig had en kwam met een mooi plan. Douwe is ook goed bereikbaar voor vragen. Het hele traject van verkopen-plannen-plaatsen liep gesmeerd.
Wijzigingen zonder problemen
Offerte's op tijd, er wordt goed meegedacht, na opdracht worden evt. wijzigingen snel gewijzigd en leveringen vd wijzigingen worden zsm gedaan.
Snel en netjes werk!!!
Netjes geregeld en netjes personeel die snel en goed werk geleverd hebben.
prima contact en volgens afspraak geleverd
we kunnen duidelijke afspraken maken
Tot nu toe altijd goed werk geleverd
De leverantie naar buiten toe is altijd goed geweest. Ook de voorbereiding/afstemming aan de voorkant is goed
slecht want afspraken worden niet nagekomen.
Zou nog kit krijgen om de silowanden af te kitten helaas niets ontvangen. chauffeur zou om 6uur smorgens hier de wanden lossen i.v.m. dat ik de kinderen om 8uur naar school moet brengen en dan komt de chauffeur om 7uur hier aan en zegt ie tegen mij dat ie zijn eigen verslapen heeft enja dan loopt heel de planning in de soep.
Was allemaal prima verlopen.
Chauffeur was wel fors te laat, moest er zelf achteraan bellen waarom hij er nog niet was, tip bel eerder naar de klant als je afgesproken tijd niet kunt halen.