Building a solid future
'Building a solid future' is our promise to our customers and we aim to realise this in the broadest sense of the word. What is built today needs to contribute to tomorrow's future. If a customer chooses Bosch Beton retaining walls, we want to ensure that the customer is making a sustainable choice. And that demands more than just doing what we have always done. It demands constant innovation as well as daring to take a critical look ahead. Within Bosch Beton, every day, we keep a close eye on the legitimacy of our products and test our working methods against the criteria of the next generation. This enables us to assure our customers that when they use our products they are helping to build a solid future.
SUSTAINABLE RELATIONSHIPS
We see customers as partners. And we like to start sustainable relationships with our partners and stay committed to them. We aim for a relationship that is future-proof and in which our customers can rely on and trust Bosch Beton. This means that we are always ready to provide personal advice and in particular that our advice is honest and sincere. Because that is the only way we can offer our customers the best customised solution. We enjoy contributing our ideas in developing customised solutions for special challenges, but we also dare to take on the challenge of realising these. We guarantee the quality of our products, but we are also there for you if a problem occurs later. We stick to our agreements on pricing and delivery and placement within the set timeframes. We also make sure that expectations are clear in advance.
Personal advice
We offer personal, expert and honest advice and aim to provide a full service to our customers.
Customisation
We work closely with our customers to develop the best customised solution for their requirements.
Quality
Our products are sustainable, are of the highest quality and are certified. We provide warranties of up to twenty years.
Fast delivery
As we have 7,000 retaining walls in stock, we can deliver these whenever you need them.
Environmental Cost Indicator (ECI)
In the future, projects must be implemented in a climate neutral and circular way so that they contribute to a sustainable living environment. The ECI (Environmental Cost Indicator) was initiated for this. External certification bodies use a fixed method to formulate the LCA (Life Cycle Assessment), which produces the ECI value. The ECI is a fictive price that reflects the costs you would need to make to compensate for the negative environmental impact of producing a product. This helps clarify for government agencies and consumers how polluting a product really is and enables people to reach better comparisons.
The ECI value of our retaining walls can vary per type and per project. You can request the ECI from our Sales Department based on your request and/or order.
Tendering with ECI
If you want to arrange a sustainable tender with ECI, take a look at Moederbestek (a BouwCirculair initiative) or at DuboCalc (a Rijkswaterstaat initiative). You'll also find our products there.
SUSTAINABLE PRODUCTION
Our state-of-the-art factory reflects our vision and mission on sustainability. A sustainable product's success is determined by its sustainable production process. Therefore, our building has been designed around the production process, so that we can work in the most technically efficient and sustainable way. A possible second life for the factory was also incorporated in the design. For instance, the building can be fully dismantled and recycled at the end of its service life. The first sustainable concrete factory in the Netherlands was built in accordance with BREEAM-NL Outstanding (Building Research Establishment Environmental Assessment Method).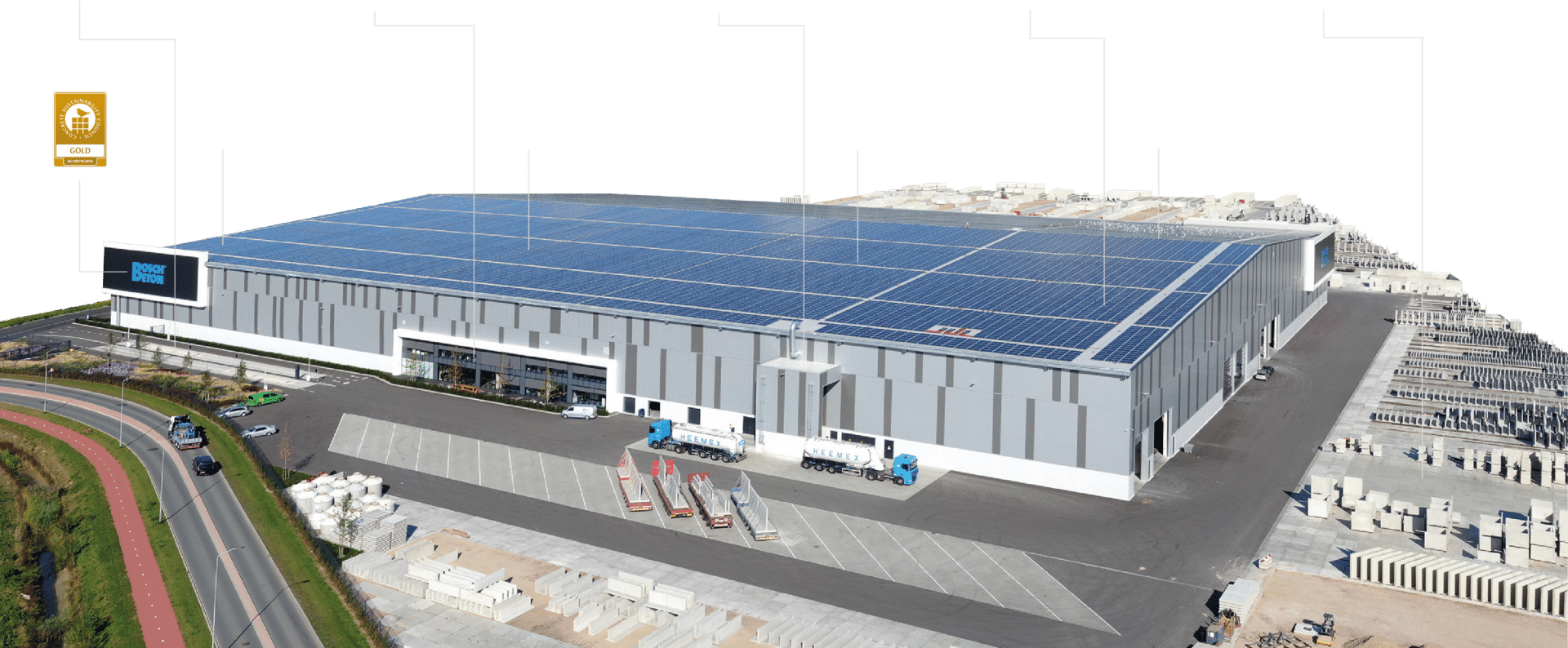 Sustainable innovation
We need cooperation within the chain and the sector, and with the government to be able to innovate and realise new products, raw materials and norms and standards. Our customers can then also benefit from that network and from the expertise gained.
That is why we are affiliated with various networks and work together with different organisations and initiators.

Tevreden over service en levering
Goed contact met tussenpersoon Cor Molenaar. Product is goed.
Net bedrijf wat snel handelt
Sinds kort klant. word snel gereageerd op de mail en goed mee gedacht. beton is van goede kwaliteit.
Prettige samenwerking
Afspraken zijn goed nagekomen, alleen jammer dat we via een infrabedrijf goedkoper hadden kunnen inkopen.
Snel schakelen om door te kunnen.
De eerste levering bevatte keerwanden van 3,5m1 waarbij hoeken afgebroken werden. Door het snelle schakelen van Bosch Beton werden nieuwe keerwanden op tijd geleverd en liep ons project volgens planning.
Dik tevreden
Duidelijk en betrouwbaar
prima goed
snelle levering goed en snel meedenken.
Prima overleg en samenwerking
Prima overleg, samenwerking en meegedacht in de offertefase, levering en logistiek zoals je verwacht (en we gewend zijn), het product was naar wens en voldeed aan de kwaliteit.
korte lijnen, persoonlijk en punctueel
korte lijnen, persoonlijk en punctueel