Service team
Quality and service come first for us. We think it's important that our customers are satisfied and stay that way. From quotation request to delivery. And we stay in touch with our customers after that too. The team repairs any damage, but also takes care of, for example, the correct silage clamp finishing, such as making it impermeable to liquids and oxygen or applying a coating.
Flexible and skilled
If necessary, our service team is available outside standard working hours. Our employees are knowledgeable. Feel free to contact us with questions about the strength of the walls, structures, services, if you have an emergency or have other questions.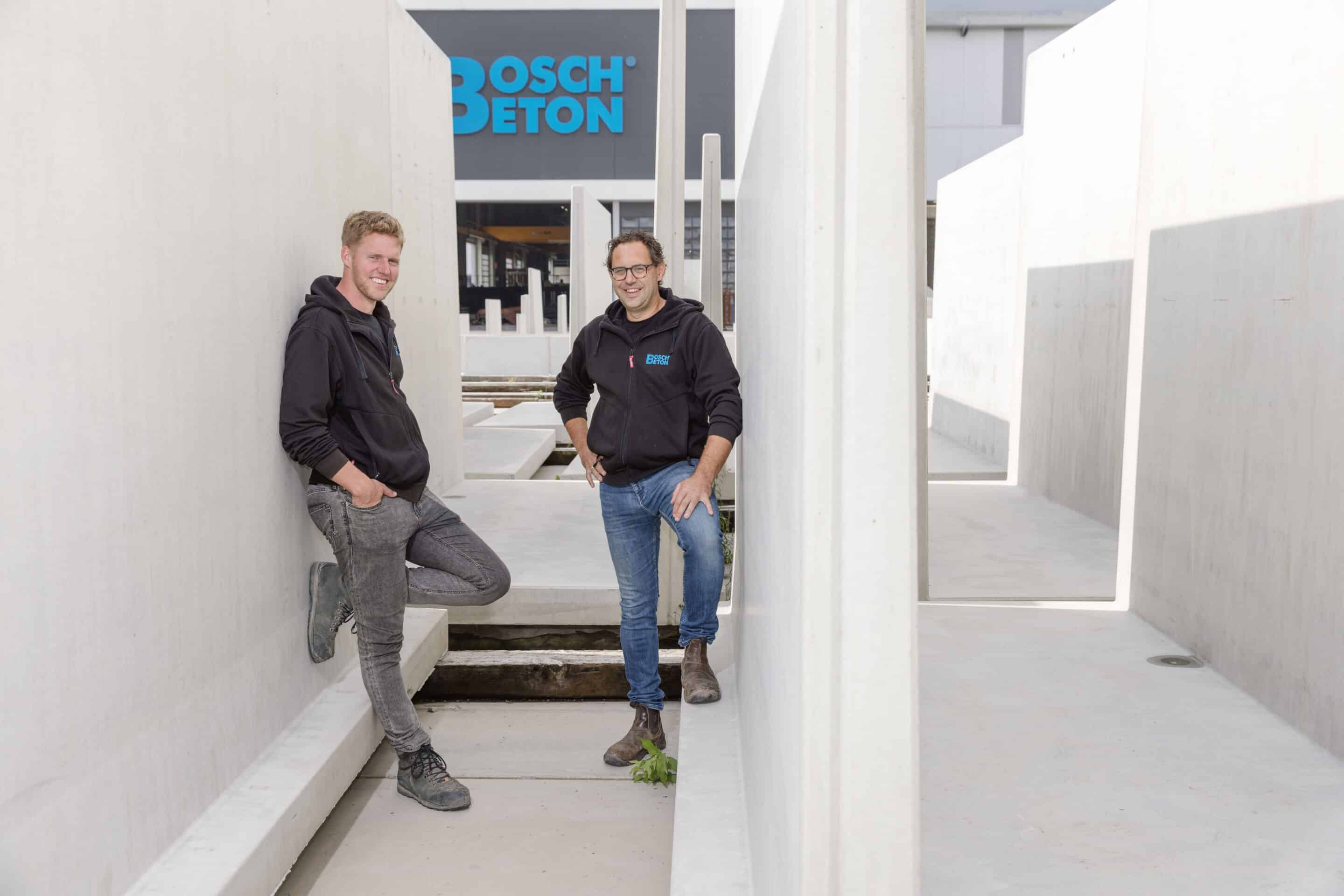 Natural main components
The natural main components of concrete, such as sand and gravel, as well as lime and marl for cement, are extracted from natural sources. This may impact the colour or the surface structure of the concrete. Flaws of this kind, such as hairline cracks, craquelure or air bubbles may occur and are permissible to a limited extent in accordance with the applicable relevant (national) standards, as they have no direct impact on the structure or on the strength of the concrete retaining wall. If you discover a flaw, contact our Service team free of charge. They will visit to conduct a technical assessment or you can receive a recommendation from one of our concrete technologists.
Ore
A good example of a natural flaw is ore. Despite all our efforts to ensure quality, occasionally pieces of fossilised clay will be found in the gravel and end up in the retaining wall via the concrete mixture. If such a piece is on the surface, moisture and temperature changes can cause the clay to swell and 'crack' out of the concrete. This often looks like a reddish-brown stone with deposits that can cause streaks on the concrete. The cause is, therefore, not in the construction of the concrete wall or 'rusting rebars' and does not affect the quality. Drilling out the clay piece and filling it with mortar offers a simple fix for the problem.
Colour
Our walls are grey in colour as standard. On request, we can add a colour or pattern finish. If you have additional requirements for the colour and/or finish of a retaining wall, a clear reference framework should be drawn up beforehand. We do this by documenting or referring to a reference wall or delivered work already in situ. This reference wall or documented reference work serves as the starting point for the expected finish and as a standard for us to comply with.
Deterioration
Despite its high quality, concrete is not resistant to deterioration if retaining walls are subject to extreme temperatures, corrosive substances, acids and/or salts. The high concrete quality delivered by Bosch Beton is the result of many years of research. Our concrete quality has an extremely dense pore structure that is less sensitive to deterioration. As a result, any deterioration occurs more slowly, ensuring that our retaining walls have a longer service life. However, deterioration can never be completely ruled out and cannot be prevented over time.
Damage
User damage, such as machine loading and unloading from storage systems, or during ensiling or removing silage from a silage clamp, is unavoidable. Incorrect application, subsidence, overloading or excess pressure may also cause damage or defects in the surface structure. If you observe a flaw of this kind that you cannot explain, you can always contact our Service department free of charge for a technical assessment or to receive a recommendation from one of our concrete technologists.
Coating
Exposed concrete parts of retaining walls, floor slabs or water drainage points that are in continuous contact with acids should be finished with a suitable coating. This completely rules out deterioration when using a wall liner and/or silage cover. Bosch Beton cooperates with partners that can provide all of this. A rough wall surface is required to enable the coating to adhere properly. This can be done, for example, by sandblasting the surface or letting it become naturally rough for a few years first. It is best to use a light-coloured coating. Coating or paint of a darker (black) colour can increase the temperature and cause tension cracks in the concrete surface.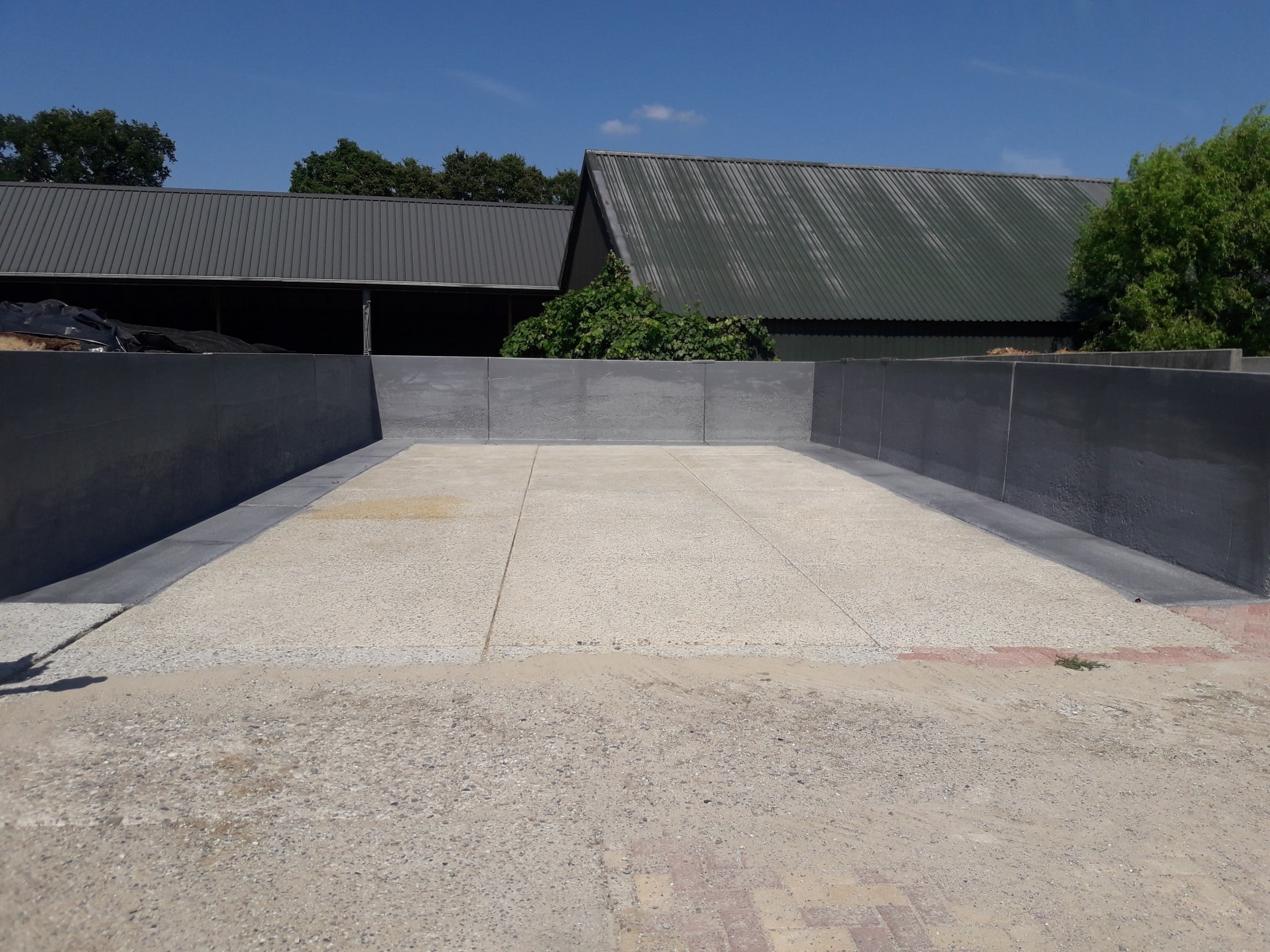 Environmental exposure classes
Our retaining walls meet strict quality and certification requirements. Sometimes a specific concrete environmental exposure class is required. These requirements may vary by country, by retaining wall type and by application. The supplied technical drawings will detail the permissible environmental exposure class and load. Our retaining walls meet environmental exposure classes including those from European standards XA3, XC4, XD3, XS3 and XF4. Ask our Sales team for advice on the correct class.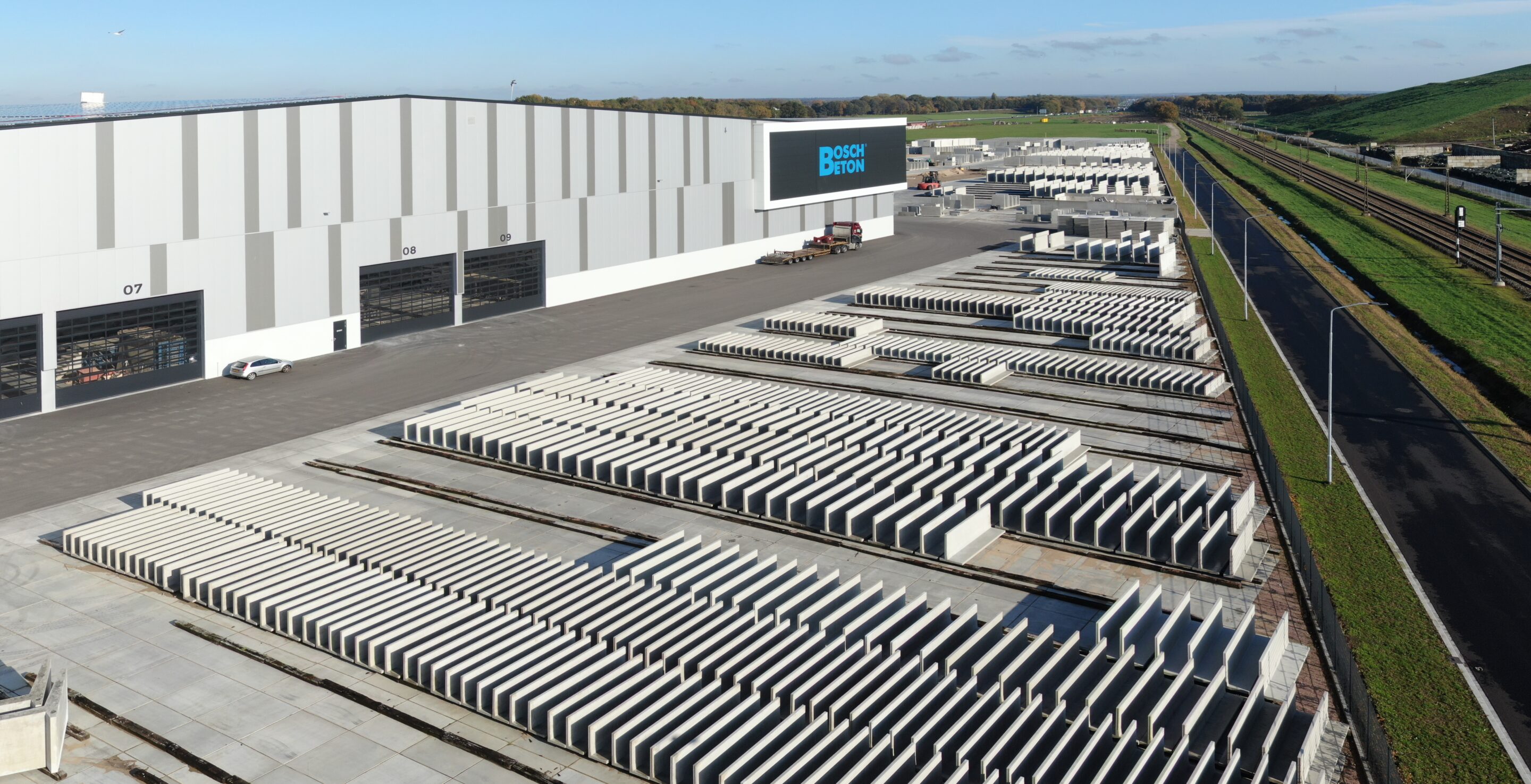 Finish & customisation
The retaining walls can be finished either during production or following placement with paint, coating, sand-blasted motifs, decorative paving, roofing, additional hoisting elements, plastering, gabions, fencing, colours etc. If you will be using lashing straps, make sure you have enough of them (every 200 cm per retaining wall). You may wish to opt for a mechanical cover system from one of our specialist partners. Ask our Sales & Engineering departments about the options!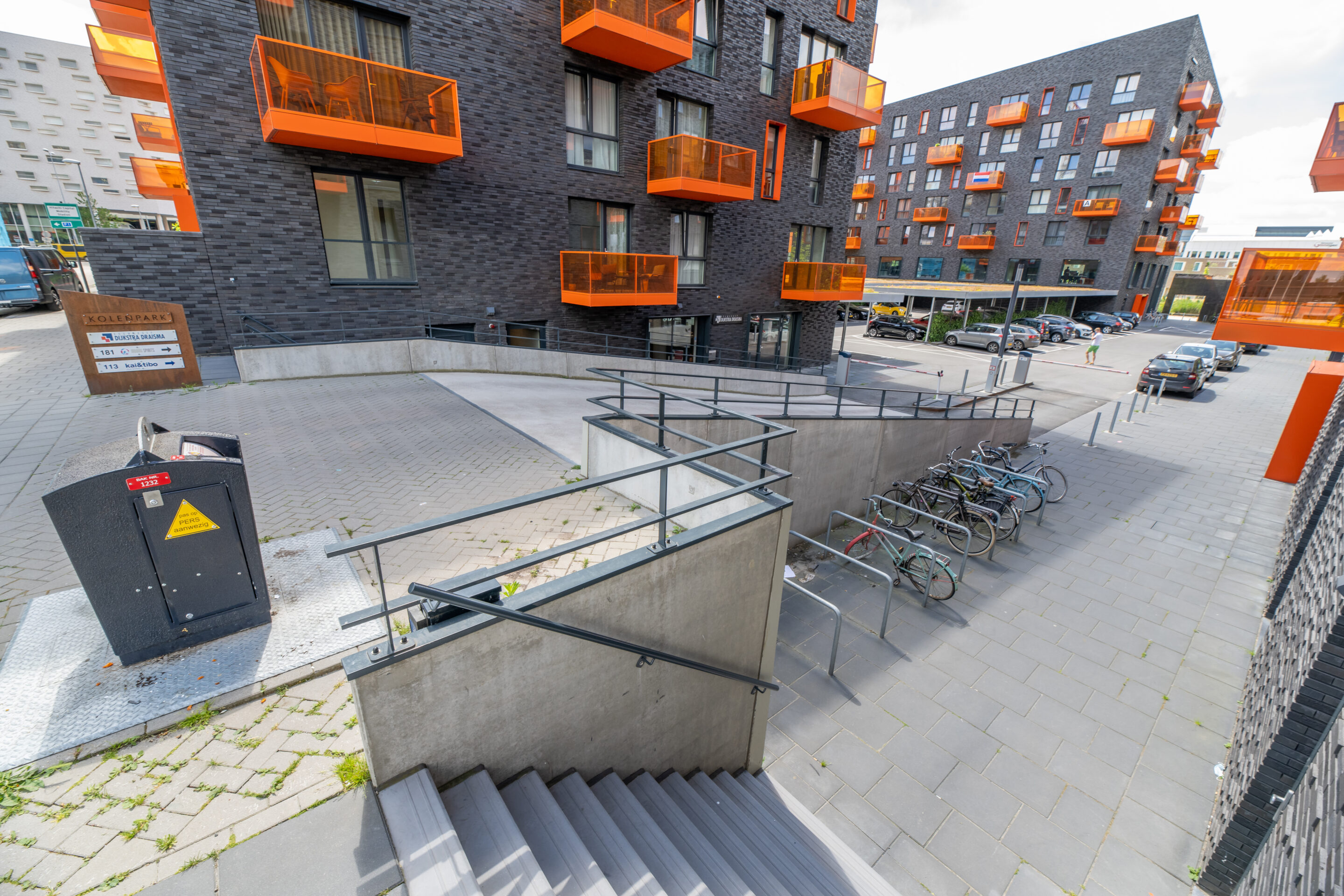 Sealing
The team also takes care of the correct silage clamp finishing, such as making it impermeable to liquids and oxygen or applying a coating. Bitumen sealant is used for sealing. This sealant is the perfect solution for fully acid-proof sealing of silage clamps. It keeps water, air and other elements out of the silage.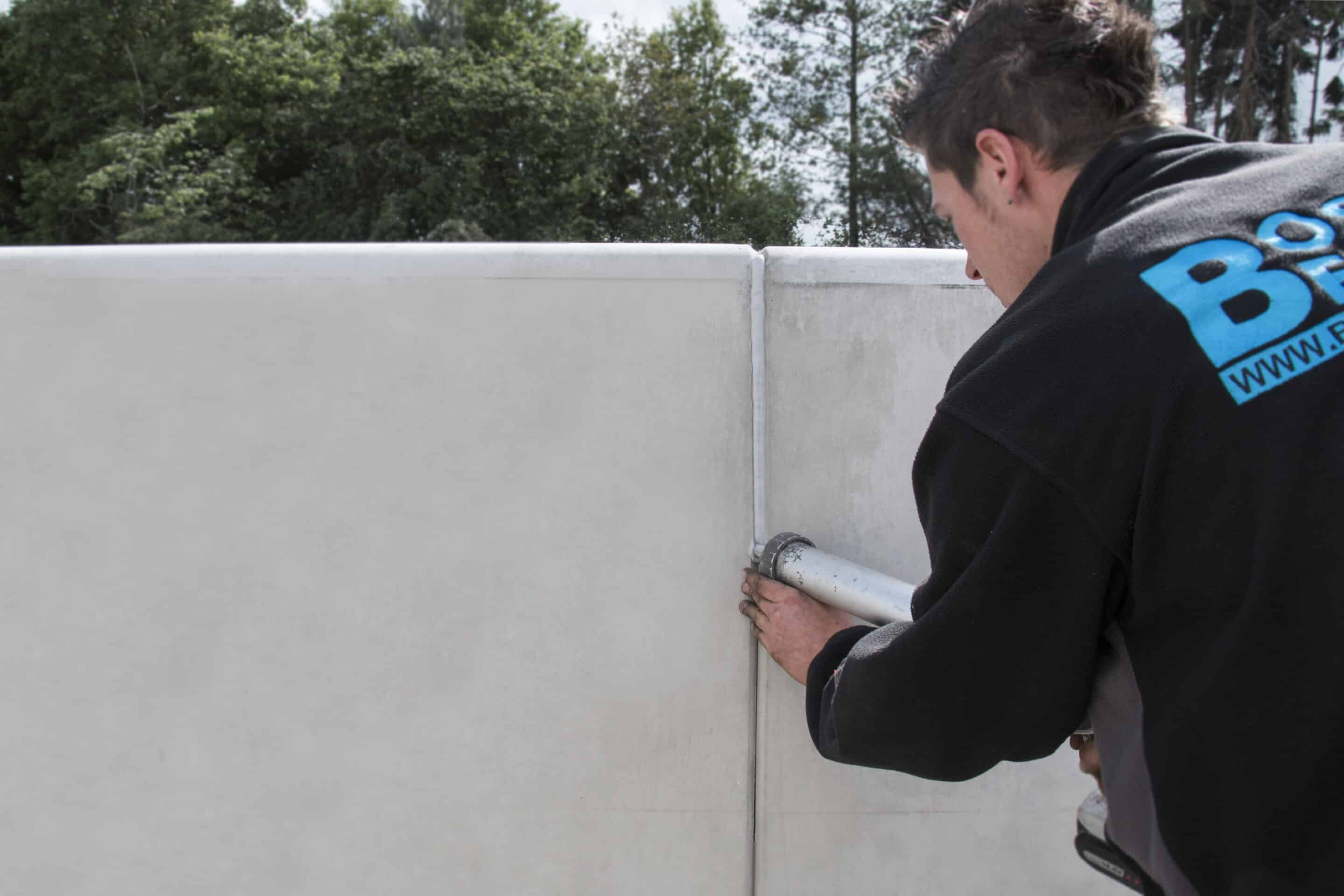 Wilbert Zanders
top product en vriendelijke mensen. ook de levering en plaatsing ging in goed overleg
Duidelijke communicatie, goed product
Fijn contact met zowel verkoop als transport
Prima keerwanden
De wanden van Boschbeton zijn kwalitatief goede en maatvaste wanden, enigste probleem ervaren we met de hijsmogelijkheden Om de wanden te hijssen heb je altijd een speciale klem nodig waar je hur voor berekend krijgt. zeker als de werkzamehden uitlopen kan dit een kostenpost worden. Enkele concurrenten gebruiken kogelkopankers, dit is voor ons makkelijker en voordeliger
kwaliteit en op tijd
KOMEN AFSPRAKEN NA
Snel adequaat en professioneel geholpen
Zeer prettige zaken gedaan. Mensen in de binnendienst zijn duidelijk ingesteld op service gericht werken en geven professioneel en goed advies. Ook bij wisseling van persoon is het dossier goed bekend. Bedrijf waar veel andere een voorbeeld aan kunnen nemen.
kwaliteitsproducten en snelle levering
De offertes zijn keurig op tijd en er wordt deskundig advies gegeven. De producten zijn van goede kwaliteit. Veel producten kunnen uit voorraad worden geleverd, dus korte levertijden. Keerwanden kunnen door de chauffeur van de vrachtwagen worden geplaatst wat ons veel tijd en geld bespaart.
Goede kennis van zaken
Goed geholpen en mee gedacht.
communicatie en levering snel
communicatie in de werkvoorbereiding verliep snel zoals ook de levering. kwaliteit van het product is ook prima.