Engineering
Our in-house Engineering team designs and checks the retaining wall solution we offer against our clients' structural or aesthetic wishes and requirements, ensuring that a project is feasible in practice. The team uses advanced design and software programs including Scia Engineer, Allplan and Tekla.
Constructors
On large custom projects, our constructors are involved with the request from the start, so that we can immediately include any technical questions in the quotation. Their expertise and knowledge of applicable standards and our production enables us to devise a practical, constructive and cost-effective custom solution. We help our customers think about the best shape, reinforcement and placement of the retaining walls, as well as sustainable material choices and alternative solutions. We conduct extensive construction tests on the retaining walls and can provide a report on request as input for the main constructor or the permit application. Retaining walls are almost always structural building elements that must comply with applicable national and international standards.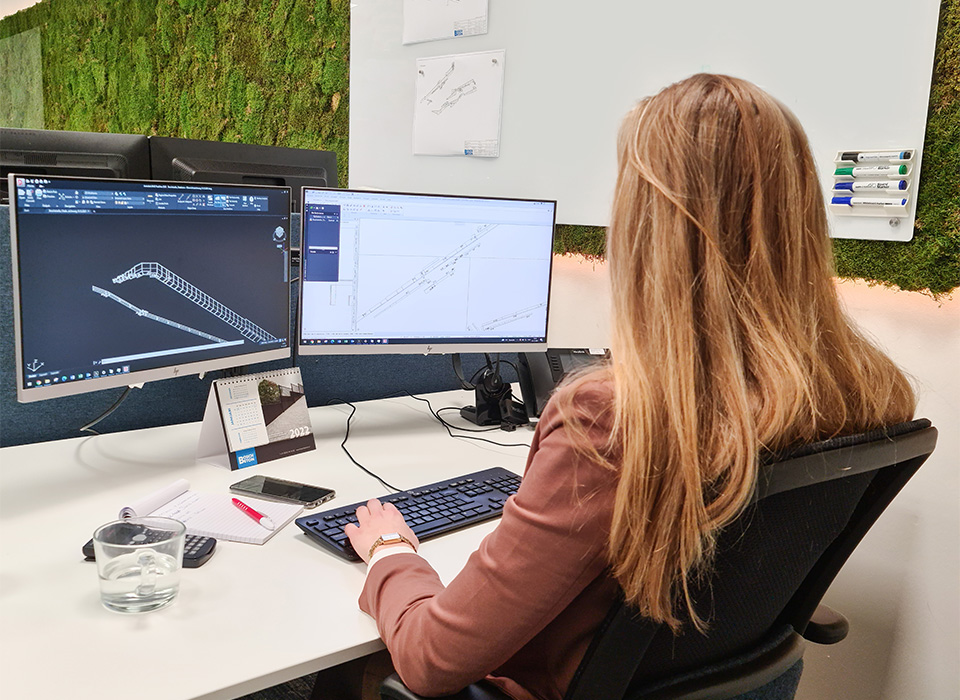 Technical draughtsmen
Our technical draughtsmen detail the solution direction we devise into a complete design, enabling us to check the feasibility immediately. We create a complete 3D project design so that the client can easily perform checks and we produce detailed work drawings to implement the project. We draw our rebar nets ourselves and produce them with our rebar machine. This enables us to minimise waste resulting from sizing and cutting losses, for example. The Production department receives a fully detailed drawing for each custom element, including any precast facilities, recesses, unloading and hoisting elements, etc.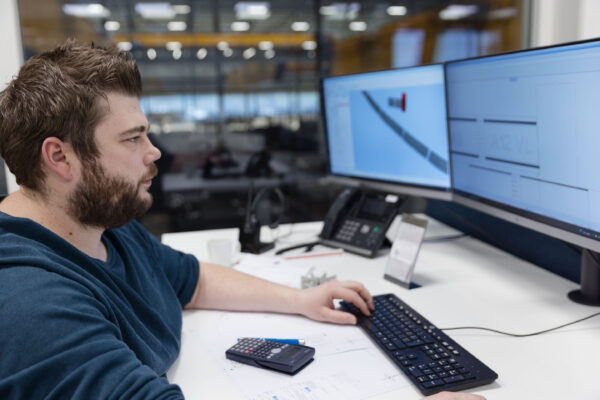 Quality
Bosch Beton guarantees the quality of its products. The retaining walls are sustainable, of the highest quality and certified. And we invest in that. We have our own pressure chamber, which we use for extensive tests on the structural strength of our retaining walls. These tests allow us to simulate the lateral and downward pressure in practice and examine the wall's behaviour and see where potential cracks can occur.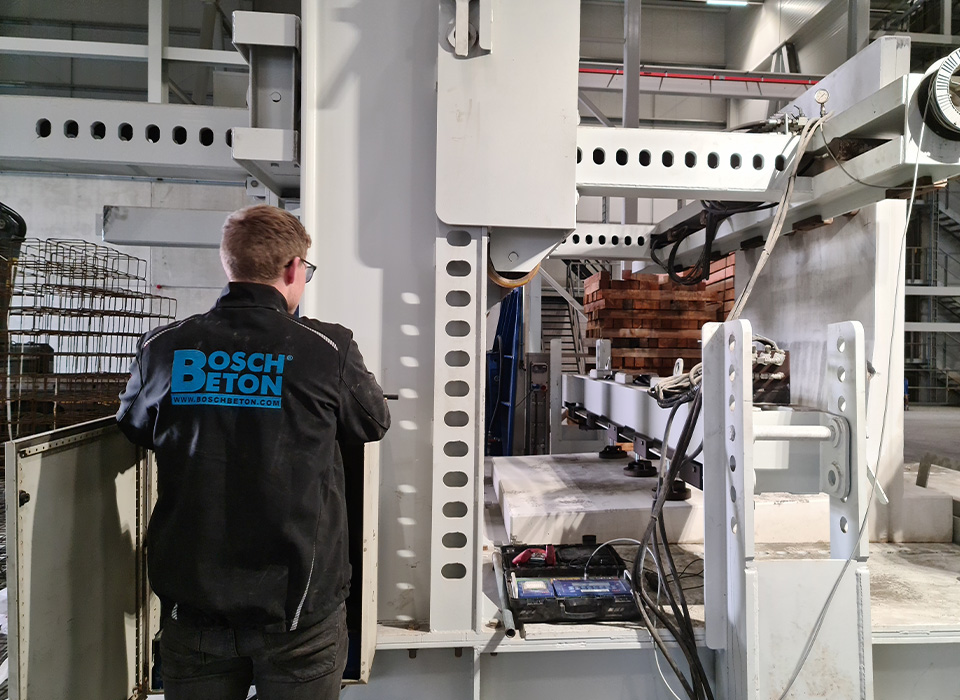 Smart use of materials
Handling materials in a smart way so that we can develop alternative solutions ensures that we make an important contribution to structurally-improved products with a longer service life and a lower carbon footprint.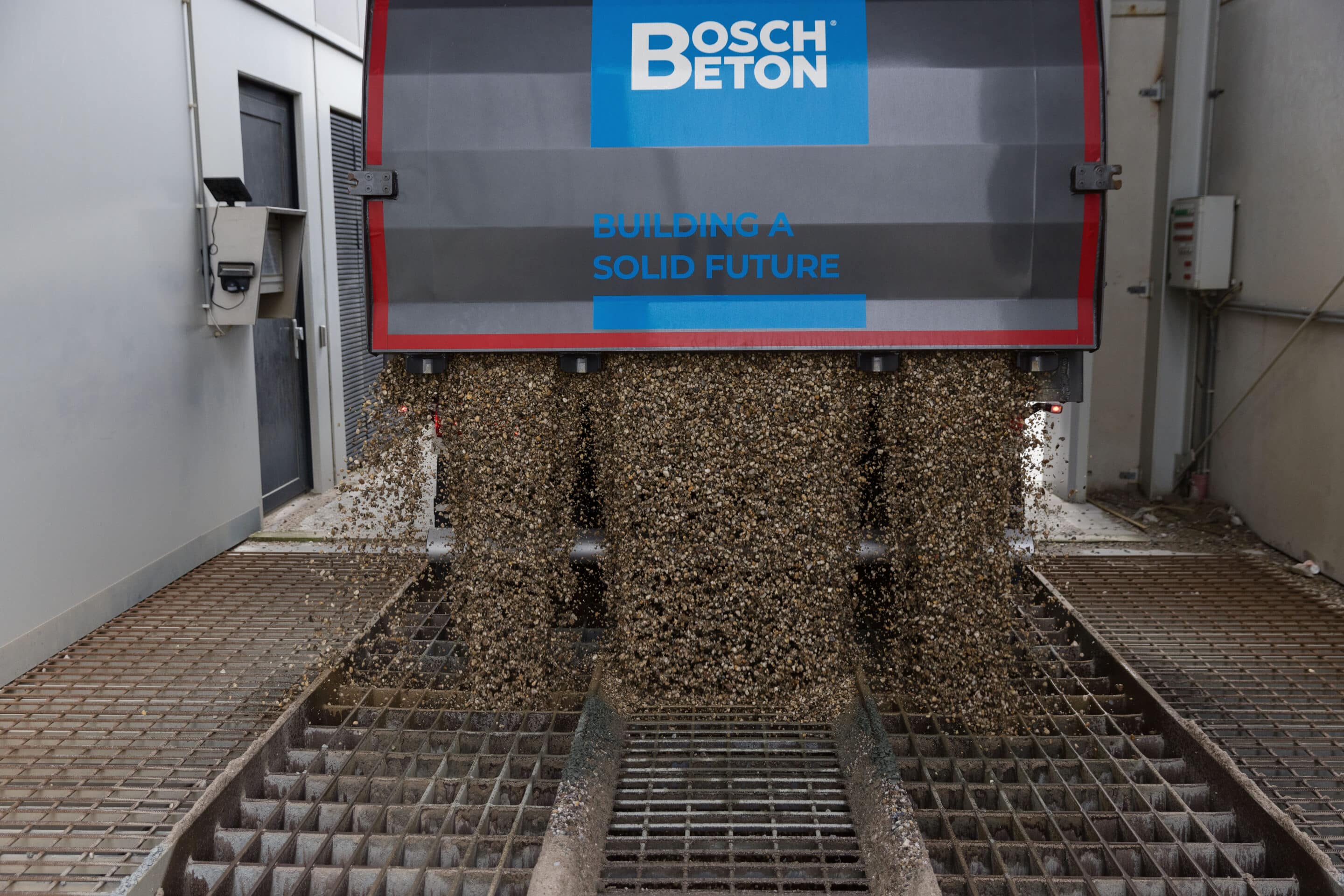 goed bedrijf
afspraken worden goed na gekomen , kunnen meestal snel schakelen, doen daar zo ie zo hun best voor
Een uitstekend product en zeer goede service
Goede kwaliteit en overleg omtrent de werkzaamheden is prima
slecht klant meenemen in offerte,
Op de tekeningen had klant, wij, kunnen zien dat de platen en de wanden van dikte verschilde, dit inverband met klaarmaken ondergrond. Daar had Bosch beton wel even op kunnen wijzen, bij de vorige silo van Bosch beton was dit niet zo, we gingen er vanuit dat dit hier ook zo was. Nu was het voor beide een vrassing,chauffeur, planner en wij als klant. Moet er speciaal een wagen voorterugkomen, wordt niemand wijzer van, had veel beter gekund.
alles prima
Alles prima verlopen
Kwaliteit en levering is goed
Zo kan ik weer jaren vooruit
Snel geregeld
Binnen 1 dag een offerte binnen na een silo gebouwd te hebben op de website ,top
duidelijke afspraken met oog voor maatwerk
duidelijk tot de laatste levering alleen bij mondeling huren onduidelijk over kosten berekening
Vriendelijke communicatie
Vriendelijke communicatie en denken mee.