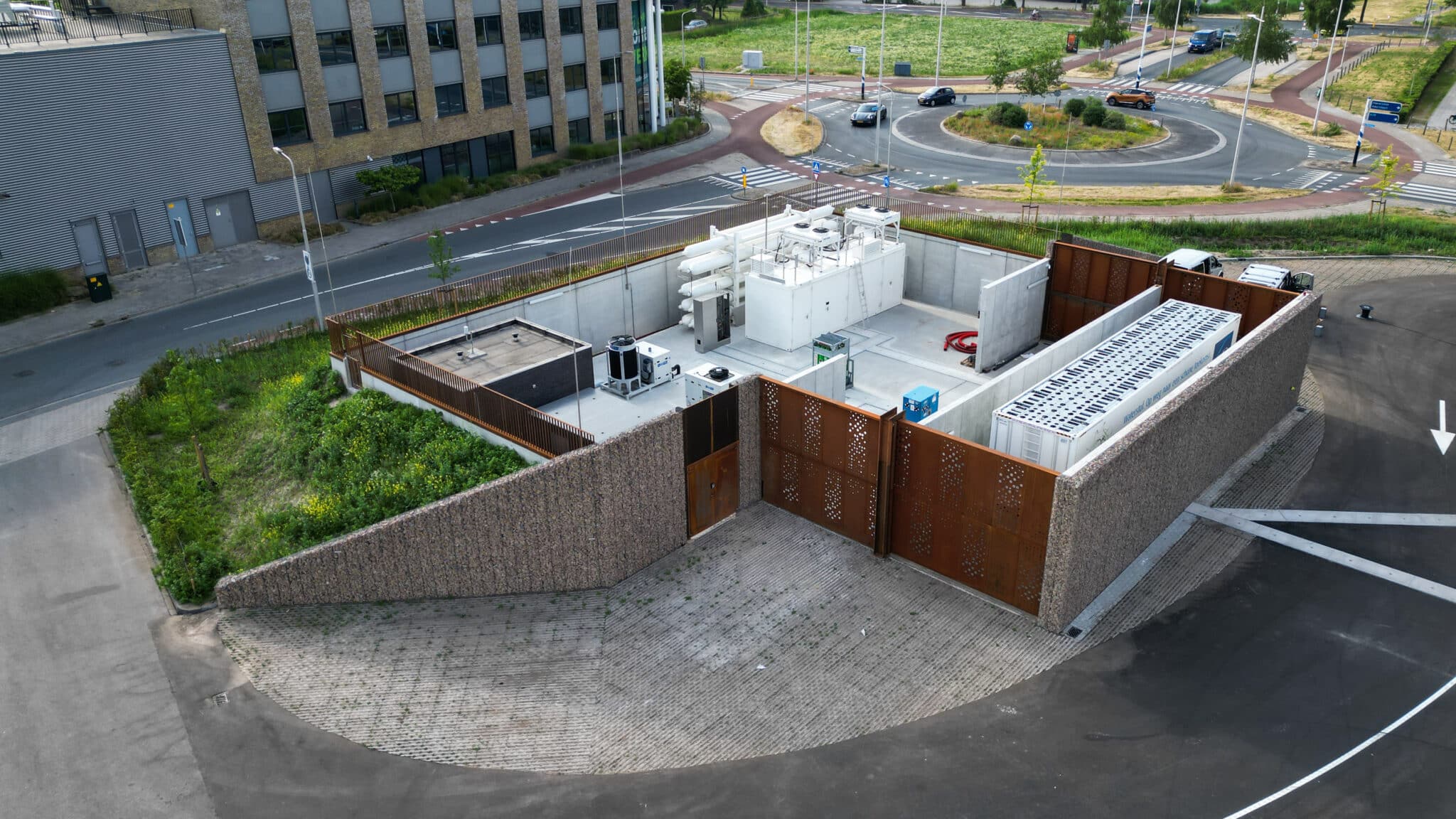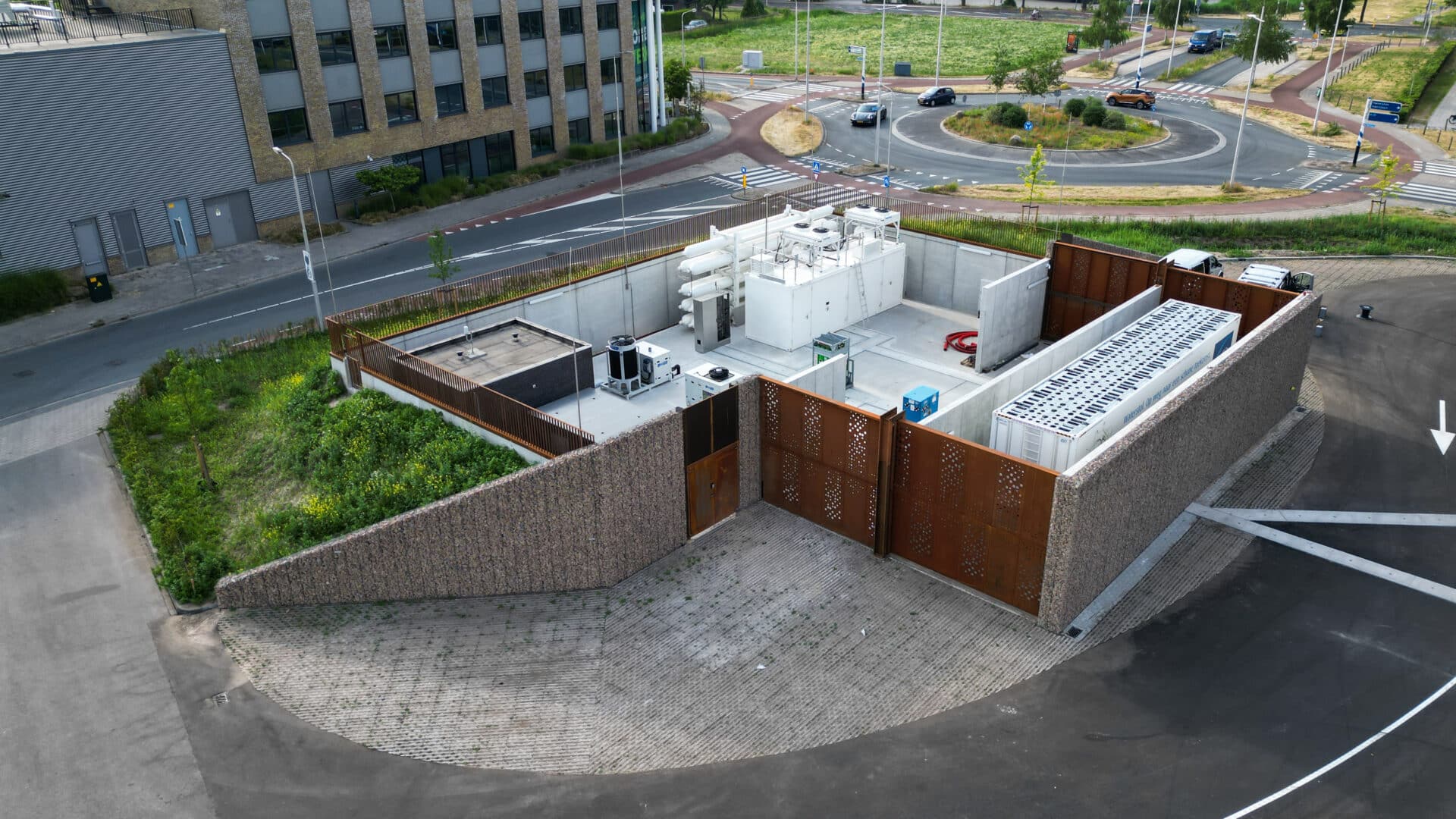 Custom retaining walls for the first hydrogen refuelling station of the Netherlands
Fountain Fuel's first hydrogen refuelling station opened in Amersfoort this year. Contracted by VMV Projecten Renswoude, Bosch Beton delivered custom LR retaining walls and L retaining walls that serve as a barrier.
Fountain Fuel
This project, named Fountain Fuel, was developed by entrepreneurs Stephan Bredewold and Steef Severijn. Their mission is to make the future more sustainable, fair and clean. They have been building a network of zero emission energy stations since 2016, as they are convinced that hydrogen is set to play a key role in the energy transition. This is also why their Fountain Fuel stations combine hydrogen refuelling and electric charging.
They are constructing these zero emission energy stations at strategic spots throughout the Netherlands. Their first location is Amersfoort, with Rotterdam and Nijmegen to follow soon. The first Fountain Fuel opened in Amersfoort in the early summer of 2023 adjacent to the food court that includes KFC and McDonald's. It's also along the motorway, making it a great location for charging and refuelling!
VMV Projecten from Renswoude asked Bosch Beton to supply retaining walls for the Fountain Fuel hydrogen station, which is part of their zero emission energy station. This charging and refuelling station combines large-scale hydrogen refuelling and electric charging. VMV Projecten had already carried out the earthworks for this project.
Custom retaining walls
The retaining walls are used to create a barrier around the hydrogen station and to prevent explosion and fire. Both L retaining walls and LR retaining walls were used in this project. The L retaining walls with heel were 350 x 250 cm and 400 x 250 cm in size, and included all kinds of custom adaptations. The LR retaining walls were delivered both with and without heel, in varying heights and including the necessary bevelling, recesses and shortening. The LR retaining walls needed bevelling as the top thickness is 15 cm and most are right-angled on both sides. Bevelling ensured that the walls could be placed next to each other in one straight line, and that the retaining walls sloped nicely.
The retaining wall feet were also placed over each other as otherwise the bevelling would have been too small, leaving no space for the foot.
All in all, it was a challenging project for the customer. This is partly why the Bosch Beton project management was asked to assist with placement on site, which enabled the process to run smoothly, securely and with a quick turnaround time.
L retaining walls and LR retaining walls
The L retaining wall with heel was developed especially for medium load applications in civil engineering. The rear is at right angles, creating a good dimensionally stable straight retaining wall after placement. With a service life of at least fifty years, our standard retaining walls are also a sustainable solution.
The LR retaining wall was developed especially for heavier (R = retaining) load applications in civil engineering and is available in various lengths. The LR retaining wall is always 150 mm thick at the top and features a special coupling batten recess. This enables the retaining wall to be placed securely over various height differences.
Hydrogen, a 'clean' energy carrier
Bosch Beton is convinced that hydrogen will need to play a greater role in the future. This is because hydrogen is a renewable fuel, is a 'clean' fuel and releases only water (vapour) during combustion. So it's extremely environmentally friendly. The government also aims for our country to be climate neutral by 2050. Hydrogen is important for this, as not everything can be made more sustainable using electricity.
Bosch Beton has already taken the first steps towards using hydrogen, and preparations are underway for the first Bosch Beton hydrogen truck. Bosch Beton sees this as a future means of transport for carbon neutral transportation and placement of retaining walls.
Further information
If you would like to know more about this project or about our custom retaining wall solutions, please feel free to contact our consultants.
Question
Whatever your requirements, we have a retaining wall solution for you. How can we help you?