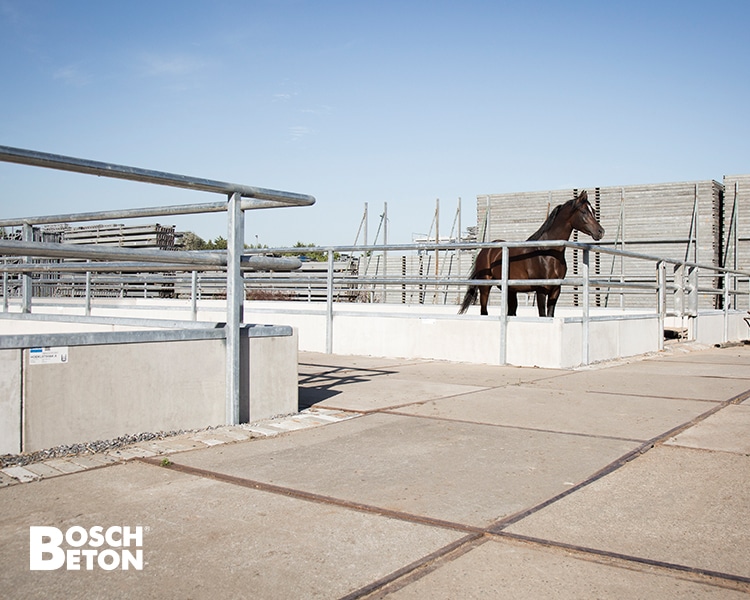 Paddock for Arabians in Nieuwkoop
The sturdy horse paddock at the Kuijf family stud farm in Nieuwkoop is clear evidence of the versatility of retaining walls. Two horse paddocks for their racehorses were constructed using Bosch Beton retaining walls.
Arabians are a breed of horses originating from the Arabian horses from North Africa and Southwest Asia. The Kuijf family stud farm is some ten hectares with stables and indoor and outdoor paddocks. Several internationally-renowned horses were kept at this stud farm.
Horse paddocks
Arabian racehorses are among the best in the world and always need to be in top condition.
Two paddocks were constructed for the horses on this stud farm using our L retaining walls with heel. This ensures that the walls are sturdy and can withstand impact. The horses can run at full speed here.
Retaining walls
The two paddocks are 12 m x 24 m and 18 m x 24 m and L retaining walls of 75 cm in height were selected. Fencing has been fitted on top of this ensuring that these contemporary horse paddocks also look attractive. Our client installed the retaining walls themselves using a retaining wall clamp.
Further information
If you would like to know more about this project or our customised retaining wall solutions, please feel free to contact our consultants.
Build your own silage clamp
Use the Bosch silage clamp generator to build and submit your own virtual silage clamp in three steps. You will receive a non-binding advice within three working days of submission.