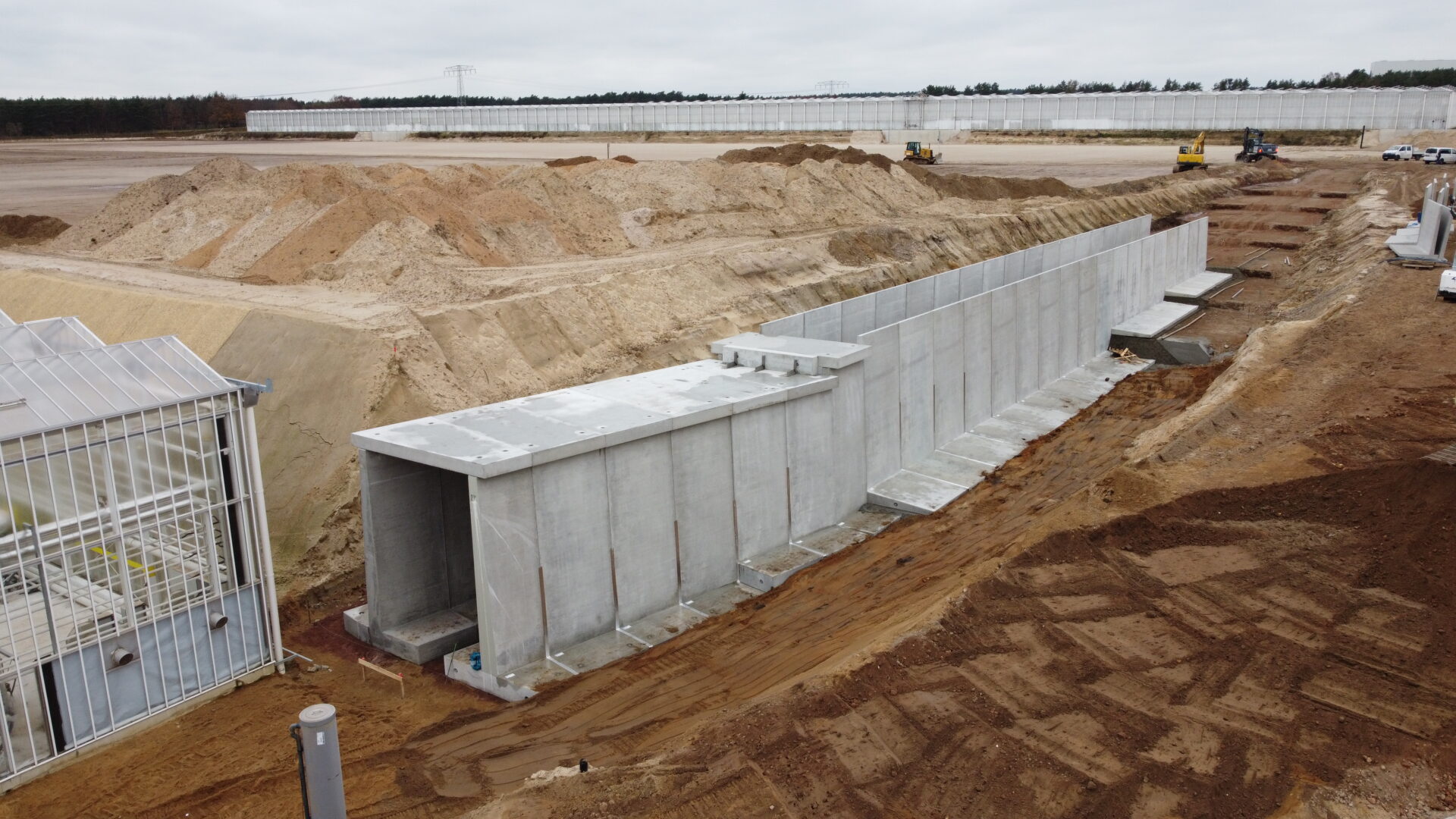 Ramp and tunnel made from retaining walls at German grower
Bosch Beton built a ramp and tunnel for this project at Wittenberg Gemüse GmbH, a sustainable grower of fresh fruit and vegetables in the German Lutherstadt Wittenberg. We used our prefab concrete retaining walls of up to 5 metres high for this contract.
Tunnel from retaining walls
Our team created a ramp with TW500 and L500-L100 retaining walls with heel and floor elements. Placing floor elements on the retaining walls created a tunnel that connects two greenhouses. The grower will soon be able to transport strawberries through this tunnel, which ensures that the fruit is not affected by the weather. The floor elements also serve as a path for the fire service over the top of the tunnel. Bosch Beton was involved in the project on a full-service basis for engineering, production, project management, transport and on-site assembly. We placed a total of eighty retaining walls and seven floor slabs.
Price-quality ratio
Our client wanted the ramp and tunnel construction to be carried out exclusively by one partner. Bosch Beton offers a customised retaining wall solution to match any situation. Although tunnel construction is not exactly our core business, we were the only party who could meet all the requirements and provide the client with a full service. In our opinion, the fruit and vegetable grower made a good choice. Our many years of experience in engineering and project management enabled us to resolve any construction site issues and obstacles quickly.
Wittenberg Gemüse is also extremely pleased with the entire process of design, contribution of ideas, planning, implementation and after-care. And was also very satisfied with the good price-quality ratio.
Further information
If you would like to know more about or our customised retaining wall solutions for road and traffic or soil and garden, please feel free to contact our consultants.
For more information on this project in Lutherstadt Wittenberg please contact Frank Geerdink, Civil Engineering Germany Account Manager on T +49 (0)171 26 38 525.