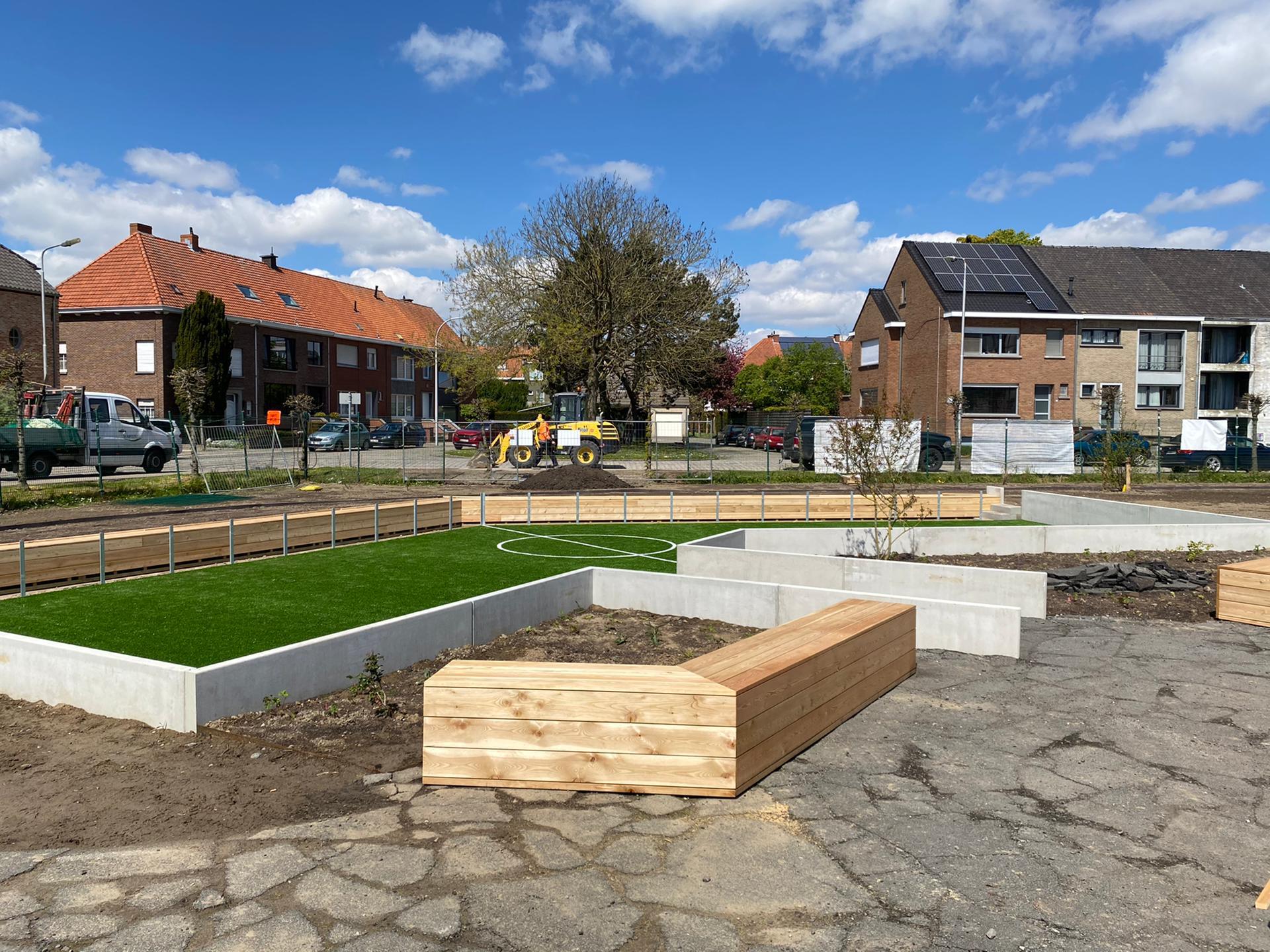 Boring schoolyard in Kortrijk is first Zero Waste Schoolyard
The first Zero Waste Schoolyard has been constructed at the Sint Amandsbasisschool Zuid in Kortrijk (BE). They optimised the use of every square metre. Bosch Beton delivered various retaining walls for this special project.
Zero Waste Schoolyard
The Zero Waste Schoolyard in Flanders is a unique collaboration between parents and local residents. The boring 5,000 m2 asphalt playground at the school underwent a true metamorphosis and has been transformed into a green park. The schoolyard is primarily for the school pupils, but local residents can also use the park outside school hours.
The new schoolyard concept is well thought-out, sustainable and educational. For instance, the old asphalt was reused and every drop of rain that falls is collected in a buffer. There is plenty of space in the park for trees, flowers, vegetation, insects and butterflies, making it an extremely pleasant place for everyone to linger.
Design
The schoolchildren were given a blank sheet of paper to take home so they could design their ideal playground. Green-YD Tuin- & Landschapsarchitectuur then used the children's input to produce a stunning design for the new schoolyard. The colours blue, green and grey are key features in the design.
Layout
The playground has a panna football pitch where our 1.25 and 1.50 m L retaining walls were used. L heel retaining walls of 1.75 metres high were placed around this, to which benches were fitted. Bosch Beton L walls of 1.75 and 2 metres high were used for the outdoor class in a perfect, customised segmented arch. We cut the retaining walls to size at the correct angles at the top to create a stunning fit. Several concrete walls were placed here too, for the perfect finish.
ECI
The wall delivery and placement went really quickly and the customised work met all our client's requirements. The exceptional ECI value on the Bosch Beton retaining walls certainly added value for the entire project.
Further information
If you would like to know more about this project or our customised retaining wall solutions for soil and garden, please feel free to contact our consultants.