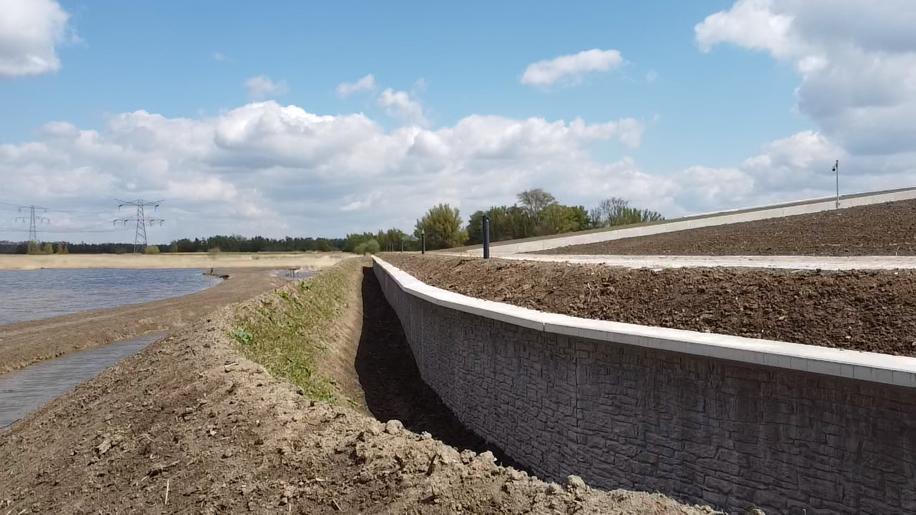 Bergsche Maas: special project in De Biesbosch
This is a special project in De Biesbosch National Park, where Bosch Beton supplied various retaining walls for the new Bergse Maas intake pumping station, including structured walls for nesting swallows.
Contracted by G. van der Ven B.V. Aannemingsbedrijf, Bosch Beton supplied special retaining walls for the area around the new Bergsche Maas intake pumping station. The intake pumping station is located in De Biesbosch National Park (9,640 hectares). Water from the Maas is an important source of drinking and industrial water.
Swallows and structure
Van der Ven asked us to supply retaining walls for this special project in accordance with specifications. We proposed a different design for the final structure on the walls, which they were immediately enthusiastic about. Various Bosch Beton products were used in this contract.
We supplied several standard retaining walls up to 1.5 metres high and supplied retaining walls of 2.5 metres high across a length of around 265 metres, finished with a structure. Swallows like to nest in this nature area, which is why so-called swallow gaps were introduced in around half of the structured walls, in which these migratory birds can nest. The first swallows moved in quite quickly after placement!
As well as the retaining walls, we also placed various longitudinal bars, staircase elements, partition walls and kick plates. We supplied the first standard retaining walls in July 2020, followed by the structured walls and other special elements at the end of 2020. The final deliveries were supplied to the project in De Biesbosch in early 2021.
Largest intake pumping station
The former intake pumping station dates from 1973 and was due for replacement. Waterwinningbedrijf Brabantse Biesbosch (WBB) contracted Evides Waterbedrijf to build a new water intake pumping station along the Bergsche Maas. Royal HaskoningDHV produced the design for the new pumping station together with Molenaar&Bol&VanDillen Architects (Buro Kade). The objective was to be prepared for increasing demand for drinking and industrial water and realise a considerably larger pump capacity. This guarantees a fresh water supply as a source of drinking water for the majority of southwest Netherlands. This latest intake pumping station is the largest in the Netherlands for the intake of river water.
Nature
The Bergsche Maas pumping station is located in a so-called Natura-2000 area. The design of the new intake pumping station therefore needed to blend within the river and dike landscape. The design took sustainability and the natural environment into account. Solar panels at the front (200 m2) generate part of the required energy. Now that the structure is ready, a higher environmental value is being created for flora, fauna and biodiversity.
'Pleasant and open collaboration during the design and preparatory process, with the delivered elements producing a fantastic result." Martijn Struijk – Aannemingsbedrijf G. van der Ven.
Further information
If you would like to know more about this project or our customised retaining wall solutions, please feel free to contact our consultants.