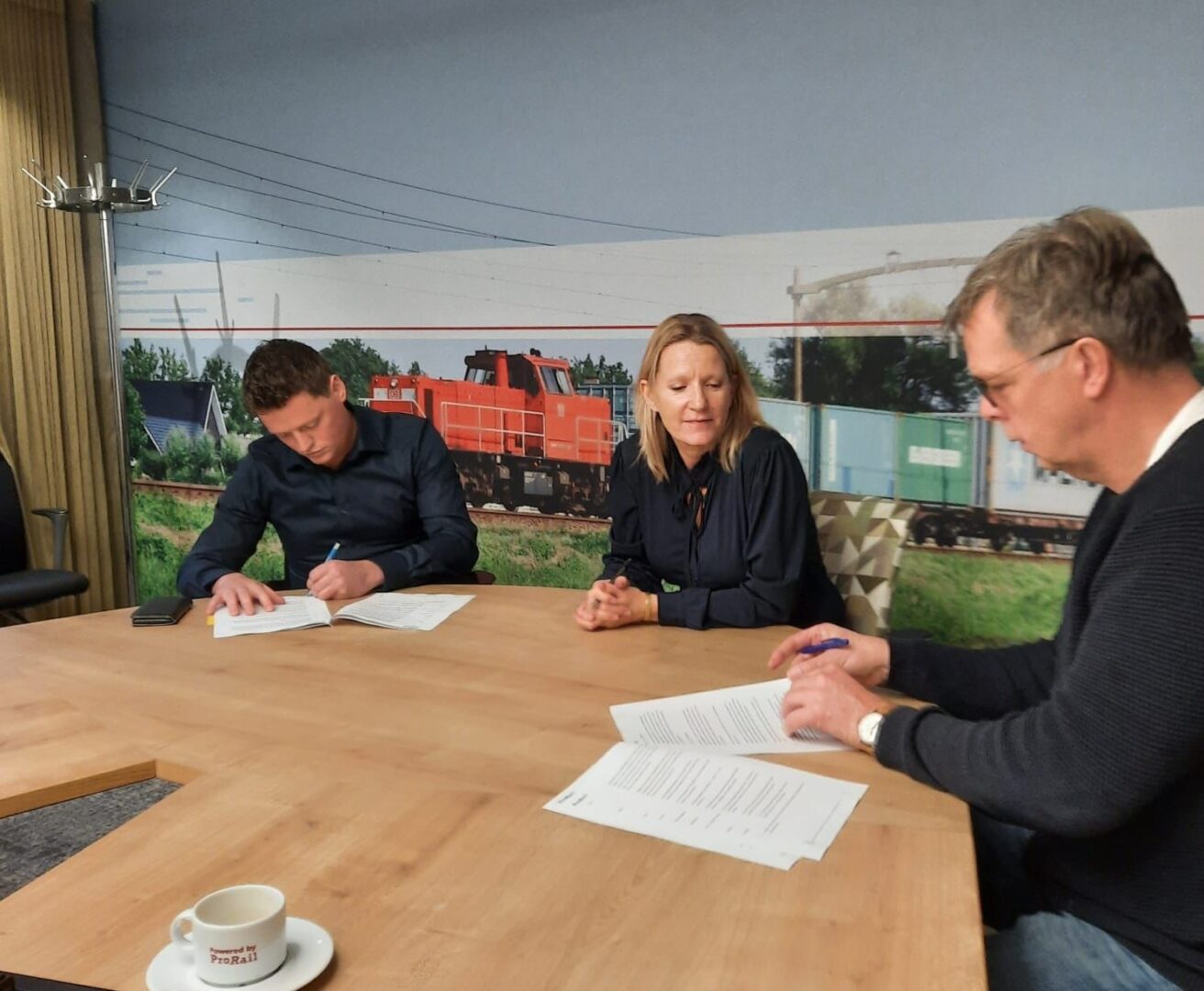 Bosch Beton signs partnership agreement with ProRail
Bosch Beton signs ProRail contract together with four other parties
On Friday, 12 November 2021, Bosch Beton signed a partnership agreement with ProRail for the sustainable retaining wall pilot project. The purpose of this new innovation partnership is to work with market partners to make retaining walls along platforms more sustainable.
19 November 2021
Tender
For this partnership, Bosch Beton put in a bid for the ProRail tender. The current concrete retaining walls along the railway have a rather high carbon footprint. The purpose of the innovation partnership is to investigate a more sustainable material for the production of retaining walls that have the lowest possible ECI value without this having consequences for the construction. If this is successful, the next step is to investigate whether this can also apply to larger structures in the future.
The study must show whether the new sustainable retaining walls perform better in terms of carbon emissions, ECI, circularity and structural properties than the current concrete retaining walls. Service life, load and safety are also priorities.
Innovation partners
As well as Bosch Beton, four other partners signed the ProRail contract. In the first phase, the partners are investigating the impact, feasibility and economic perspective of the innovations and will produce an action plan for the test phase.
The partners will then each produce a test retaining wall of 1 metre. This section will then be subject to various tests in the laboratory. A two-year field test will also be conducted, with the retaining walls being placed at a station in Midden-Nederland. This will take place in the summer of 2022. In the final phase, the successful partners will produce a bid for their solution for a platform within the 'Standardised Platforms' contract.
Standardised Platforms
Bosch Beton is already involved in the ProRail 'Standardised Platforms' project in which we supply platform walls for various stations. We work with partners including Wallaard Noordeloos and Van Ooijen Gouda on this. We optimised our platform retaining wall especially for this project and developed a new sustainable concrete mixture. The elements are KIWA certified in accordance with the latest ProRail product specification.
The platform walls have already been installed this year in Hollandsche Rading, Soest, Soestdijk, Baflo, Brummen, Culemborg, Heeze, Lunteren and Lage Zwaluwe. Stations in Rhenen, Veenendaal, Hoensbroek and Geleen are next in line in the weekend of 20 and 21 November.
Further information
For more information about our partnership agreement with ProRail please contact Erik Mulder, Account Manager Civil Engineering Nederland, telephone +31 (0)342 441053 or via erik.mulder@boschbeton.com.