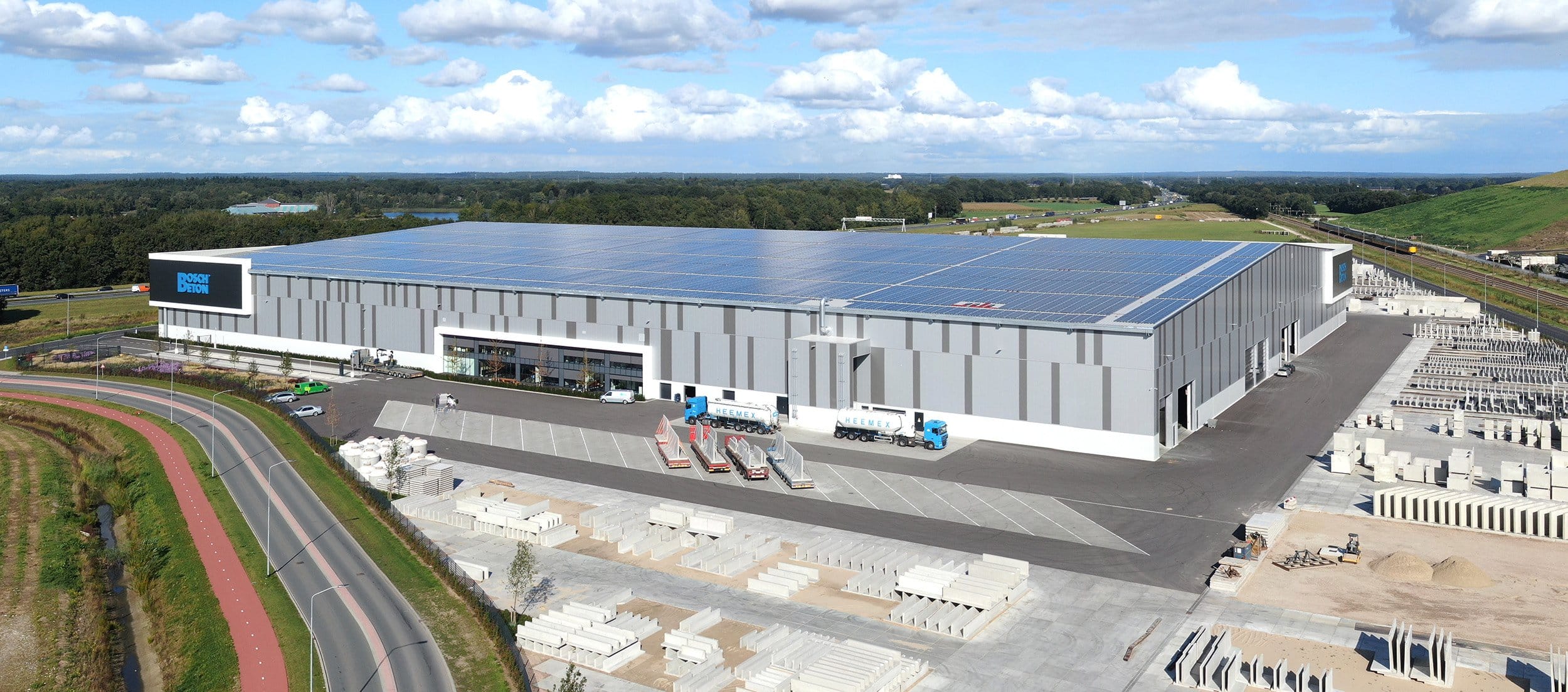 Bosch Beton relocates to state-of-the-art factory
On 1 June 2019 retaining wall manufacturer Bosch Beton relocated its entire operations to its new state-of-the-art factory in Barneveld, just off the A1 motorway. These new premises have been constructed using sustainable materials, including recycled products, and are equipped with all manner of sustainable installations. With the opening of its new factory the market leader has also increased its production capacity. To make this possible, the entire production process has been optimised, which means Bosch Beton is ready to respond to the rising demand on the market and satisfy all the associated requirements. In short, Bosch Beton is fit for the future!
3 June 2019
BREEAM Outstanding certified factory
Bosch Beton is a leader when it comes to sustainability and was the world's first retaining wall manufacturer to achieve CSC certification for sustainable concrete production. With the completion of its new factory the company has gone a step further – the factory has been constructed in accordance with BREEAM standards and achieved the highest rating of 'Outstanding'. The certification process takes all kinds of sustainability-related aspects into account, such as energy, water consumption, material use and how waste and contamination are dealt with. An excellent example of this sustainable approach – one that will also be clearly visible to anyone driving past the premises from August – is the solar panel installation, which will cover the whole of the roof.
13-hectare plot for retaining wall manufacture
The factory stands on a plot with an area of around 13 hectares, while the factory itself covers 33,400 m2 (3.5 ha.), most of which is used to manufacture retaining walls. Several concrete mixers and process cranes, which are used for a number of different production lines, are available within the factory. That means Bosch Beton has further enhanced its capabilities when it comes to manufacturing products for customer-specific applications, such as structures, coloured concrete and products made from recycled materials. In May Bosch Beton was awarded KOMO and Güteschutz certification for its new factory at Grote Bosweg 1 in Barneveld, where production has already started. Thanks to these certifications, customers can be confident of receiving products of consistently high quality.
Truck movements are also made easier by means of high-tech, unmanned access control, including a weighbridge capable of handling all types of wide and long loads.
Green energy for factory and surrounding area
The company's old site in Kootwijkerbroek will be redeveloped. Steps are being taken to develop a renewable energy farm here. The plan is to construct a 10-hectare solar farm, which will be capable of supplying green energy to the surrounding area in Kootwijkerbroek.
From 1 June 2019 the new visiting address for Bosch Beton's head office is: Grote Bosweg 1 in Barneveld. This is easily accessible from junction 16 (Voorthuizen) of the A1.