Bosch Beton receives BREEAM-NL 'Outstanding' certificate
Bosch Beton received the highest achievable 5-star BREEAM-NL Outstanding certificate for its state-of-the-art factory in Barneveld on Friday, 11 December 2020. We obtained a maximum 100% in the Energy, Water and Waste categories.
14 December 2020
The overall score on the handover certificate is 87.59%, a so-called exemplary performance level that has resulted in the highest achievable qualification 'Outstanding'. Just 3% of properties worldwide achieve this level.
Of course, the award ceremony took place in the building concerned. Simon Hogenstijn, assessor at W4Y adviseurs, officially presented the certificate to Gerard van den Bosch, co-owner of Bosch Beton. BREEAM expert Olaf Buter, managing director at Adamas Groep as BREAAM expert, and Nicole van Est, contractor responsible for BREEAM and work planner at Van Mourik Bouw B.V., were present at the award. 'This is a just recognition of Bosch Beton's innovative ideas. An Outstanding Performance not only means high ratings on the many sustainability and health aspects, it also shows the world that you are an innovator and can adapt your business operations to today's climate requirements. The rating is more than deserved and is something the next Bosch Beton generation will be proud to promote in the concrete sector,' stated Olaf Buter.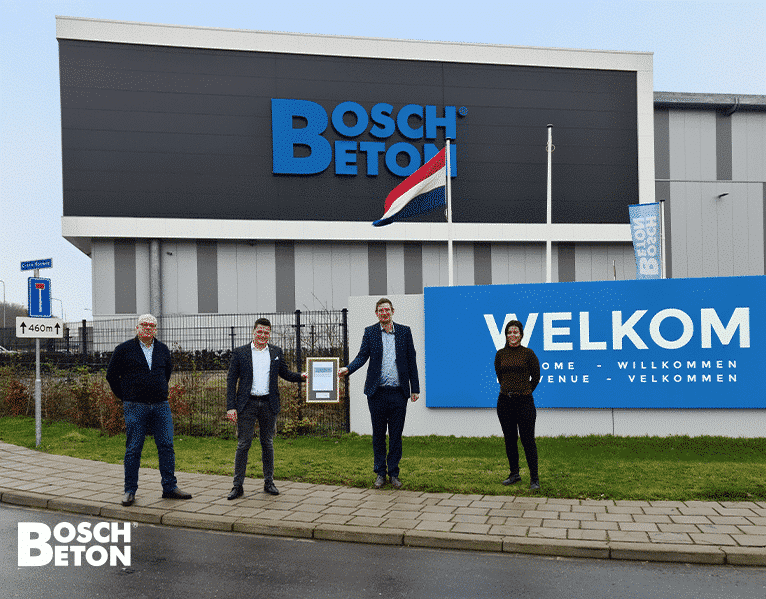 Award of BREEAM Outstanding certificate to Bosch Beton.
(from left to right: Olaf Buter, managing director at Adamas Groep, Gerard van den Bosch, co-owner of Bosch Beton, Simon Hogenstijn, advisor at W4Y adviseurs, and Nicole van Est, work planner at Van Mourik Bouw B.V.)
Sustainability
Bosch Beton is leading the way in sustainability. Sustainability is key to our business strategy. We are the first retaining wall producer to receive the international Concrete Sustainability Council (CSC) Gold certificate for sustainable concrete production. Last year, we went that step further with the construction of the new factory. According to BREEAM (Building Research Establishment Environmental Assessment Method) the factory has been constructed at the highest level – 'Outstanding'. This certification examines various sustainability aspects, such as energy, water consumption, material use and how waste and pollution are handled. The capacity and multifunctional use of the large 2,100 m3 water reservoir made a particular impression. We capture rainwater in the reservoir for reuse in the production process, which means that we no longer need to use mains water and our concrete is even more climate neutral. We received a 100% score on Energy, Water and Waste.
ECI
An important next step in our sustainability ambition is to be the first retaining wall supplier in the Netherlands to receive a verified Life Cycle Analysis (LCA) on our retaining walls. External certification bodies calculated our ECI value (Environmental Cost Indicator), making us the first in the sector to obtain an LCA. We hope that this will enable us to set a sustainable standard.
Our ECI value played a major role in the award of the ProRail 'Standardised Platforms' project, in which we collaborate with Dura Vermeer.