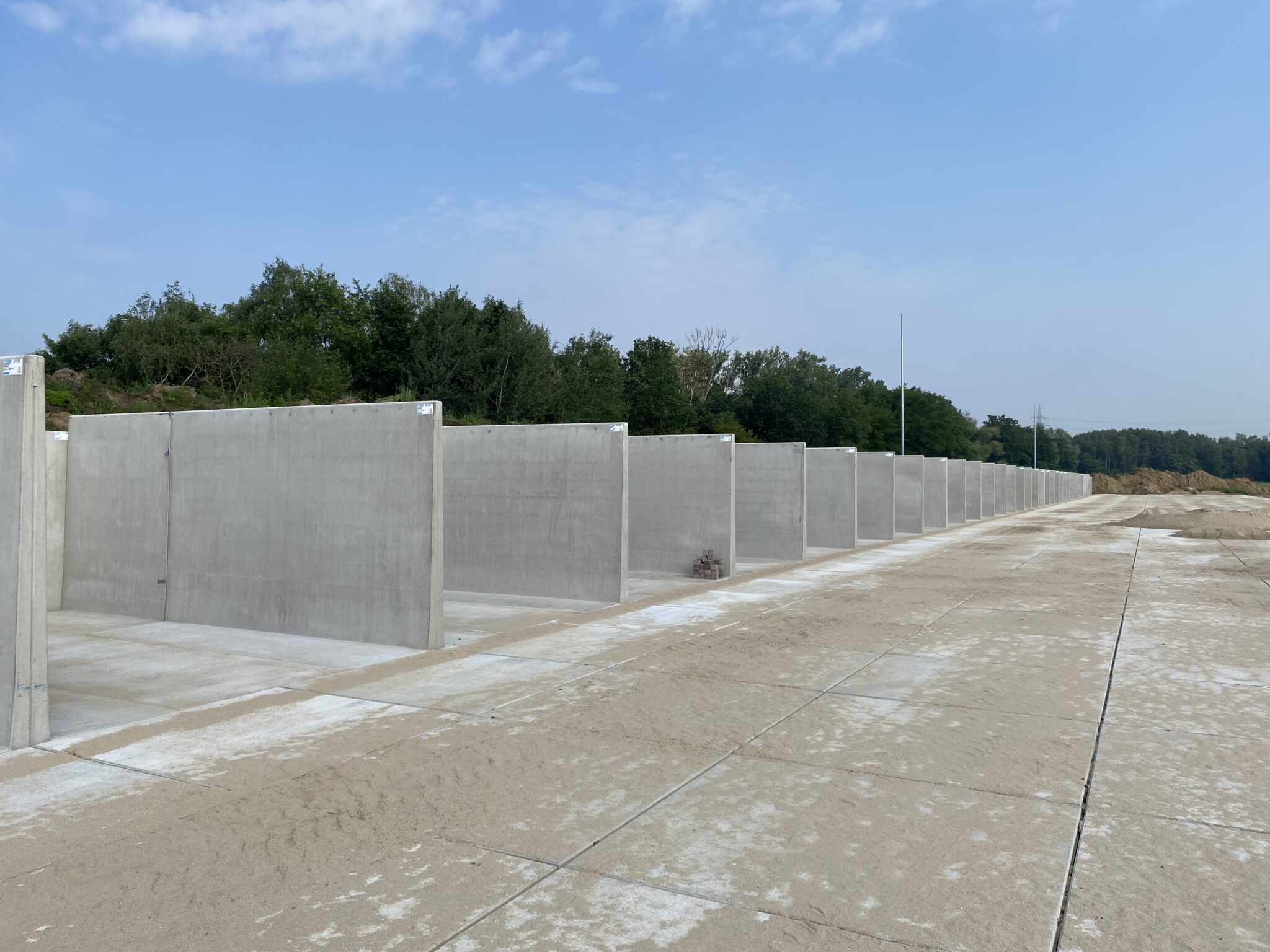 Space-saving storage for new garden centre in Duffel
Vandenbergh Tuincentrum in Duffel (BE) found a new site on undeveloped land to further expand their business. The space-saving Bosch Beton retaining walls were used to optimise the use of the new site.
Focus points
Vandenbergh Tuincentrum had grown and developed so much they outgrew their existing site. They found a new site on the edge of the business park in Duffel. It was undeveloped land of the business park and needed some work before the new garden centre could be constructed. For instance, various green zones and buffer basins were needed. And the important water supply pipe from the Province of Antwerp that runs beneath the site didn't make things any easier as this supply pipe needs to remain accessible at all times for modifications or in the event of problems. Another important aspect for the garden centre was the ecological character of the business park.
Space-saving solution
The garden centre asked agency for garden and landscape architecture, KM Tuinplanning to help them decide how they could best achieve this. The environment and landscape architect then contacted Bosch Beton. The Bosch Beton floor plates suitable for heavy axle loads were used to safely shield the province's water pipe. The client still had some concrete 'lego blocks' that they use for storage on the current site. However, after visiting Bosch Beton, our client became convinced of the space-saving options and strength guarantee.
ECI
The client chose Bosch Beton retaining walls because of our service and reliability, but also because we produce the concrete walls using an environmentally-friendly process and include an ECI value.
Over 500 metres of L250, L300 and TWA250 retaining walls were used for this project. Some 3,300 m2 of floor plates were also installed.
Retaining walls for storage
Our TWA250 walls were used to create storage. As the storage areas are 6 metres deep, we produced a special mould for this project to enable elements of 2 metres in length to be made. The TWA retaining walls were actually developed for silage clamps and biogas silos, as used in the agricultural sector. However, this design also means that these walls are suitable for other storage systems. A unique feature is that both sides of the walls can fully absorb the heavy compressive forces and impact of such things as shovels and tractors.
The project has been completed in September 2021 and the client is very delighted with the choice for and expertise of Bosch Beton.
Further information
If you would like to know more about this project or our customised retaining wall solutions for storage, please feel free to contact our consultants.