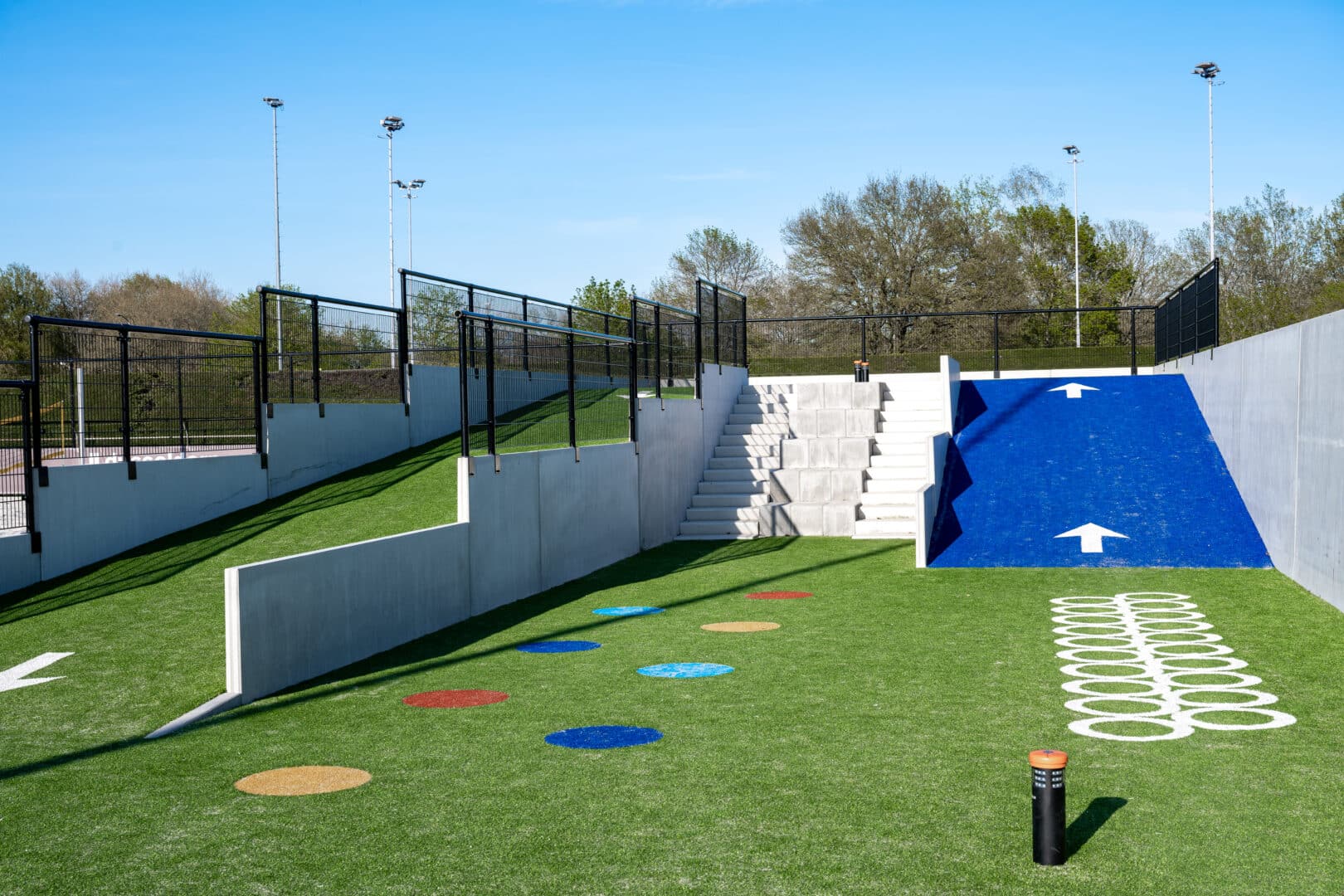 Retaining walls for new multi-functional sports park
Longa '30 sports club in Lichtenvoorde shares the sports grounds with other parties, which led to the idea of developing a multi-functional sports park. Our L retaining walls with heel in various sizes were used to construct the so-called exercise park.
Exercise park
Various target groups use the Lichtenvoorde sports grounds, including Longa '30 sports club. As various users were using the grounds, they came up with the idea of building a multi-purpose sports park offering a versatile range of sports. The new exercise park is some 1,250 m2 and Vario Fields installed beach courts for beach volleyball, and tennis and badminton courts.
Multi-functional
The designers created a separate artificial turf pitch for athletes engaging in agility training and running. They laid steep slopes with steps for this, and our L retaining walls with 2.5-metre heel and walls varying from 1 to 2.5 metres provide level differences in the grounds. Fencing has been installed on top of the retaining walls to provide a good partition. The multi-functional grounds also have a climbing and walking wall and battle ropes for strength exercises.
>> Watch Vario Fields' video, which covers the story from design through to the end result https://www.youtube.com/watch?v=W5IUgtOAJOs
Sports accommodation
Bosch Beton is often involved in sports accommodation. Our retaining walls have been used around the elevated clubhouse at a football club in Wageningen. We also created terrain fencing at a revamped sports park in Dieren, which was then finished with plain masonry.
Further information
If you would like to know more about this project or our customised retaining wall solutions for soil and garden or sport and leisure, please feel free to contact our consultants.
Vario Fields: van ontwerp tot eindresultaat